Dean tells BBC instability at heart of Barclays' woes
02 March 2016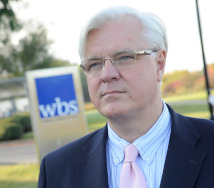 Mark Taylor tells BBC Barclays is suffering an identity crisis
The Dean voices concerns over the bank's stability
Shareholders are spooked by the bank's recent troubles
Professor Taylor argues the new CEO needs to win trust back
Mark Taylor, Professor of Finance and Dean of Warwick Business School, has told the BBC he believes Barclays is going through an identity crisis and will have to take action to satisfy spooked shareholders.
The banking giant has announced a drop in full-year profits and seen shares suspended amid a price plummet of 11 per cent.
Professor Taylor said: "You could say Barclays is having something of an identity crisis. To go through four CEOs, four leaders, in such a short period of time puts one in mind of Chelsea Football Club rather than a major financial institution.
"The previous CEO, Anthony Jenkins, was a lifelong retail banker and then Barclays suddenly switched halfway through last year to a new CEO, Jes Staley, a lifetime investment banker - so one does have to worry about the long term stability of the bank.
"On the other hand, they do appear to have a well thought out plan to retrench in Africa, to ringfence UK retail businesses and to concentrate on two core businesses: US corporate and international, and UK retail banking, so the jury is out at present. There is a lot of instability, so we will have to see how the dust settles."
Barclays will also set aside a further £1.45 billion in provisions for PPI mis-selling, and has announced an exit of Africa less than a year after its chairman suggested it was an optimal location for the business to be in.
Instead the bank will focus on the US and UK market, sacrificing the 12 million customers in Africa across 12 countries.
"At the moment the Core tier 1 capital ratio is only about 11 per cent of its loans, below its 12 per cent target," said Professor Taylor. "Barclays is hoping that selling off Africa will raise it another one per cent."
Mr Staley has argued it is his main aim to restore the bank's reputation. However, the instability it has gone through with four different bosses in only five years, numerous clashes with regulators, its share price plummeting - which continued after it announced a net loss of £394m for 2015 - is something its shareholders are acutely aware of, according to Professor Taylor.
"Shareholders are less than convinced at the moment," added Professor Taylor. "Shareholders tend to be spooked by uncertainty and there is a lot of that at the moment at Barclays, so we will have to wait and see how the ship is steered.
"Do I think the new boss is the right man for the job? Well, the banking industry does need to regain trust and I think he is potentially the right man to do it, but arriving in December and receiving a quarter of a million pounds payment for one month is probably not the best way to regain the public's trust immediately.
"Nevertheless he does seem to be a highly experienced international banker with the right experience to lead Barclays going forward."