Dean tells CNBC Bank of England acted too slowly
14 March 2014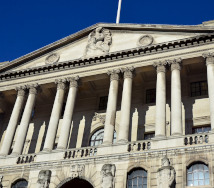 Former Bank of England senior economist Mark Taylor told CNBC TV the UK's central bank should have acted sooner on suspicions that foreign exchange markets were being rigged.
With more than 20 traders suspended or fired from major banks around the world over allegations of colluding to manipulate the £3 trillion-a-day foreign exchange markets, the Bank of England has now brought in Lord Anthony Grabiner QC to investigate allegations that some of its staff may have been involved.
Bank of England Governor Mark Carney was grilled by MPs on the Treasury Committee after suspending one of his employees following its own review into the foreign exchange markets.
Professor Taylor, Dean of Warwick Business School and a former Bank of England economist and currency investment manager, said for many years there had been evidence of price spikes around the daily London 4pm fix for the WM/Reuters benchmark used for many large client orders and feels the Bank of England should have investigated this before now.
"They should have known about it earlier," said Professor Taylor on CNBC's Worldwide Exchange. "It is part of the folklore of the foreign exchange market; everybody knows it spikes around 4pm and that people are 'front-running' the market in order to try to affect the reference rate at 4pm. In my view it is something the Bank of England should have clamped down on a few years earlier.
"It is a bit of a grey area; there can be some quite legitimate lumpy trades around 4pm. The question is, were they legitimate and 'normal business' or were they put through deliberately to affect the rate in order for the bank to make a profit from its customers. That, though, is going to be hard to prove."
The benchmark rate – the '4pm fix'—is made by taking an average of the exchange rate in currency trades 30 seconds before and after 4pm in the London market. The benchmark rate is used to value trillions of dollars of assets, and is the rate at which some big investors agree with their bank to exchange currencies to settle their accounts at the end of every day. If the benchmark rate can be pushed up artificially, then the banks could charge the investor a higher rate than the rate at which the bank is able to cover the trade in the market a few minutes later, with the difference representing a profit for the bank. Some of the trades involved are huge – billions of dollars. So, if traders can move the benchmark rate just a tiny amount it could represent a profit of millions of dollars.
Professor Taylor added if evidence of collusion is found between traders in the thousands of emails and Bloomberg and Reuters chat room messages which regulators are examining, then that would be very serious and could lead to criminal prosecutions.
"If some of the big players in the market got together and put through some very large trades - billions of dollars each - then that could affect the market," said Professor Taylor.
"It would take a huge amount of money to move the market, but you only have to move the market a small amount for a short period, and that could be worth millions of dollars of profit for the banks.
"Regulation of this would be very difficult, but one solution would be to take away the temptation to do this by taking the average over an hour - so 30 minutes either side of 4pm rather than 30 seconds. It's a simple, workable solution because it would be a lot harder, if not impossible, to move a market as big as the FX market for an hour. Removing the incentive to cheat is much better than regulation because of the global, decentralised nature of the foreign exchange market."
There have been reports that the Bank of England knew about manipulation of the 4pm fix and it released minutes of meetings of one of its sub-committee's suggesting it had been raised. But in front of the Treasury Committee Mr Carney said it was only aware of the allegations last October with Bank of England Markets Director Paul Fisher insisting the minutes were referring to traders complaining of big orders from hedge funds distorting the market, rather than evidence of deliberate rigging of the 4pm fix.
"The minutes are ambiguous and Fisher fell back on that," said Professor Taylor. "In a sense putting through big orders around the 4pm fix is not illegal, but if there was evidence found of collusion to do this and affect the benchmark rate that would be illegal. That is why the chat room evidence is crucial, if there is proof of traders working together to move the 4pm fix that would be very serious.
"It would strike at the heart of business ethics and be yet another blow to the integrity of the banks. Our pension funds invest billions of pounds in the financial markets and if they are being cheated in this way then it affects every one of us."
See Mark Taylor interviewed on CNBC's Worldwide Exchange here.
Professor Mark Taylor is a Professor of Finance. Warwick Business School offers MSc Finance, MSc Finance & Economics, MSc Financial Mathematics as well as MSc Behavioural Finance.