Delve into the human mind with our free online course
25 September 2014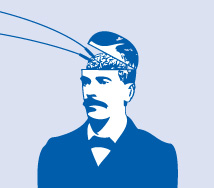 Fans of BBC Radio 4's The Human Zoo, or anyone with a curiosity of the psychology behind how the human brain works, are sure to enjoy Warwick Business School's free Massive Open Online Course (MOOC).
By taking part in The Mind is Flat: the Shocking Shallowness of Human Psychology participants will be able to make better personal and professional decisions by the end of the course according to Professor Nick Chater.
"Just about every aspect of business and public policy depends on human behaviour, from how people and organisations make decisions, to how marketing messages work (or don't), and to how consumers respond," said Professor Chater, who is a member of Warwick Business School's Behavioural Science Group.
"Recent advances in psychology and behavioural economics have shown that our 'common sense' psychology can sometimes be very wide of the mark. With The Mind is Flat MOOC, you'll be able to find out how your mind really works, and why it matters to you, your career, and your organisation."
The WBS Behavioural Science Group at WBS is the biggest of its kind in Europe. Professor Chater himself has been at WBS for four years and has won four national awards for psychological research, with more than 200 publications to his name.
He is teaching on the Executive MBA, MSc Business and also teaches the undergraduate module, Emotions in Business. BBC Radio 4 Listeners will also recognise him as part of The Human Zoo radio programme, presented by journalist Michael Blastland.
Previous participants in the 'The Mind is Flat' course have included Financial Times journalist Tim Harford, the former Cabinet Secretary and Head of the Civil Service Lord O'Donnell.
The first running of the course on FutureLearn reached full subscription in less than 48 hours as thousands of eager participants looked to get to grips with the curiosity of the human mind, while its second running in March drew a similar crowd and had more than 20,000 people join up initially. The six-week course starts on October 13 and already has almost 7,000 people signed up.
On completion of the course, participants have the option to either purchase a Statement of Participation or sit an exam in order to obtain a Statement of Attainment.
Register for the Futurelearn course today.
Warwick Business School is also running a Shakespeare MOOC for learners interested in finding out about Shakespeare and his world. This course starts on September 29 and is hosted by renowned Shakespearean academic Professor Jonathan Bate. To sign up for this course click here.