Dementia idea sees WBS team win case challenge
28 April 2016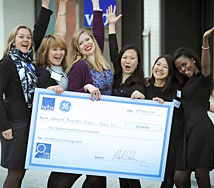 Urinary tract home testing kit to cut hospital admissions wins
Students keen to develop idea for dementia sufferers and carers
Bocconi and Manchester were second and third behind winners Warwick
Dementia UK and the Alzheimers Society part of the judging panel
An all-woman team from Warwick Business School pocketed £4,500 after winning a case challenge focused on helping dementia sufferers live in their homes longer.
The six WBS students have decided to donate £500 to a dementia charity after winning the fourth annual WBS Healthcare Case Challenge, sponsored by GE Healthcare and GE Healthcare Finnamore, after their idea was chosen by a panel of expert judges ahead of 11 other teams from across Europe.
Nyanya Joof, Valeriya Balashova, Louise Parker, Rajitkaew Jiamratanapratip, Ying Hu and Wendy Hutcheon beat off competition from Birmingham Business School, Cranfield School of Management, London Business School, Nottingham University Business School, Alliance Manchester Business School, Rotterdam School of Management Erasmus University (RSM), Said Business School, and SDA Bocconi School of Management.
Called Team XX the students impressed the judges with their idea to develop a urinary tract infection home-testing kit that would help cut one of the biggest causes of dementia sufferers being admitted to hospital.
Nyanya said: "I feel a great sense of achievement winning the case challenge, especially being part of such a fantastic team. The competition educated me about dementia and helped me face this very pertinent issue that affects the world over.
"I hope that our simple, yet innovative idea that allows dementia sufferers and their carers to test for urinary tract infection at home - a leading cause of hospitalisation for people with dementia - will get the proper funding and research it needs to make it a reality.
"It will not only help dementia sufferers but also reduce the cost burden on public health systems."
Team-mate Valeriya added: "It was an honour to take part in this challenge. We were touched deeply by the topic of dementia and surprised by the low attention it receives.
"We knew we couldn't save the world and sort out the major problem, but we tried to ease a small bit of it. We were delighted to compete with these amazing teams and are very grateful.
"The competition has increased awareness of dementia and this can only be a good thing."
The two-day competition saw teams design a poster illustrating ways in which people, processes and technology could be harnessed to enable elderly people with dementia to live in their homes for longer, thereby reducing hospital admissions.
They then had to develop an innovation to help dementia sufferers and present a 15-minute pitch to the judges on it. They were able to interview experts from the healthcare industry to build their idea.
Hilda Hayo, Chief Admiral Nurse and CEO of Dementia UK, who was one of the judges, said: "This was an inspirational event that showcased how future technology could be developed to assist people living with the diagnosis of dementia and their families to live as well as possible."
Fellow judge Tony Refson, Services Manager at Cov & Warks Alzheimers Society, added: "It was great to see dementia being the central theme of the case challenge - not only does this underline how dementia impacts the lives of so many people, but also how future business leaders' are thinking about dementia right now and that can only be positive."
Runners-up were SDA Bocconi School of Management's Bocconi Lions with last year's winners Alliance Manchester Business School's Team Falcon third.
Nicola Burgess, Associate Professor of Operations Management at WBS, who was also a judge, said: "The case challenge brought together a diversity of talented students, academics and sector experts from all over the world to think innovatively as well as practically about how we can reduce the number of emergency admissions to hospitals while at the same time, improve quality of care for dementia sufferers, their carers and families.
"The degree of commitment, compassion, passion and consideration shown by all participants was extraordinary. Still more extraordinary were the very innovative, yet highly feasible solutions, that resulted from the competition, and which could genuinely make a difference to the quality of care we can deliver, with a view to helping dementia sufferers live safe and well at home for longer. It was a rewarding, stimulating and insightful experience."
The competition was organised by the school's full-time MBA students and saw teams mailed a part of the case study, providing a background on the healthcare industry, before finding out the problem that needed tackling on day one of the event.
Emily Byrne, Senior Consultant at GE Healthcare Finnamore, said: "The case study challenge was a fantastic opportunity, which showcased the depth and breadth of thinking and application skills from some of the brightest minds from global business schools.
"Each team took on the challenge with energy and passion. Despite the focus on innovation and intervention it was heartening to see how many teams had not lost sight of the devastating impact this disease has on patients, carers and families alike.
"Many solutions focused on quality of life improvements and education for all involved, placing the patient front and centre."