Dissertation award for MSc Business Analytics student
22 January 2018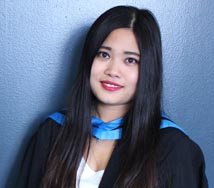 Graduate won first prize in CDRC Masters Research Dissertation Programme
Yifan competed against 17 other projects to scoop the top prize
The programme links retailers with students who conduct analytic research
Sainsbury's are integrating her research to optimise their online business
Yifan Cao, who recently graduated with an MSc Business Analytics, rounded off her Masters with an award-winning dissertation project. She won first prize in the Consumer Data Research Centre (CDRC) Masters Research Dissertation Programme, for her dissertation entitled "An Application of Multinominal Logit Modelling in E-fulfilment Demand Management", which was sponsored by Sainsbury's.
The CDRC is funded by the Economic and Social Research Council (ESRC) and consists of researchers at Leeds, UCL, Liverpool and Oxford. The Master Research Dissertation Programme links retailers with students nationally who conduct analytic research on retail data. This year, Yifan competed against 17 other projects to scoop the top prize, and a description of her work will be featured in a future issue of the Operational Research Society's Impact magazine.
Speaking about Yifan's award, Guy Lansley from CDRC commented: "Generally, all the projects this year were really good so it was a particular achievement."
The award also resulted in prize money of £500, however the biggest reward for Yifan was what she learned during the process. She said: "Taking the project with Sainsbury's has been a great challenge and yet the best decision I have made. It taught me a very valuable lesson, that efforts can really pay off. The whole experience not only strengthened my resume, but also enhanced my technical and soft skills."
Yifan conducted an empirical study using online grocery sales data from Sainsbury's to model customer choice behaviour in the context of delivery time slot selection. Specifically, she devised and estimated the parameters of a nested choice model that first considers the choice of the day of delivery, followed by choice of the time slot within a given day. The choice model has been validated using some holdout sample data and has been found to predict slot choice behaviour very well. The output of this work can be used, for example, to improve the efficiency of home delivery logistics.
Joel Lindop, Online Forecasting & Optimisation Manager at Sainsbury's, said of the research: "Yifan's project broke new ground for Sainsbury's in providing a methodologically robust analysis of the interaction between the slots offered to customers and their likelihood of their placing orders. Her approach is being integrated within our in-house tools for the management of slot availability to optimise performance of the Sainsbury's Online business. We thank Yifan for her valuable contribution."
Speaking of her success, Yifan said: "Having won the reward was a great surprise. I am very grateful for being chosen as first place and I would never have been able to achieve this without the full support from both my academic supervisor Arne Strauss and industrial Supervisor Matthew Pratt. I am lucky to have been given this great opportunity, and I am glad that I did not disappoint the people whom put faith in me."
Yifan conducted her research as part of her MSc Business Analytics, which teaches students how to gain insights from large data sets through the use of statistical methods, optimisation techniques and predictive models, and apply these to business problems.
Arne Strauss, Course Director of MSc Business Analytics, and Yifan's Dissertation supervisor, said: "Yifan produced excellent work on a challenging topic; the estimation of a choice model as complex as this is not trivial. She overcame major technical obstacles, and provided the retailer with valuable insights.
"External dissertation projects are an excellent way of experiencing analytic consultancy work in practice. It is a highly valuable and challenging learning experience with the potential to make an impact on real business operations as Yifan's work demonstrates."
Warwick Business School's MSc Business Analytics course has been ranked seventh in the world in a new QS World University Ranking.