Diversity in boardrooms not just about meeting numbers
30 October 2015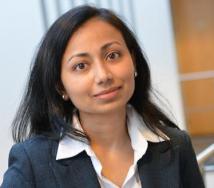 Lord Davies' report suggests women in the boardroom on the rise
In FTSE 100 firms 26.1% of board now made up of women
Dr Firfiray suggests diversity is more than numbers however
She argues firms should employ women if they can make an impact on their business
New figures on women in the boardroom show progress is being made, but there is still plenty to be done beyond just meeting targets according to WBS academic Shainaz Firfiray.
A newly released report suggests women executives now make up 26 per cent of boardroom members in FTSE companies.
Lord Davies, author of the Women On Boards closing report, now suggests this target should be 33 per cent in FTSE 350 companies.
However Shainaz Firfiray, Assistant Professor of Organisation & HRM, argues diversity has to go far beyond setting targets.
Dr Firfiray said: "Diversity at the top should not simply focus on meeting the numbers but also making the numbers count. It is important for corporations to create the right environment so as to reap the benefits of gender-diverse boards.
"When companies are coerced into appointing women on boards, there is a risk that female directors will continue to face gender-related obstacles. Very often women who are appointed to boards to meet quota requirements have claimed that they are stigmatised and it is common for their ideas to be ignored or swept aside.
"Occasionally, male directors promote a hostile board environment by failing to consider the suggestions of female directors or treat them with respectful collegiality. If gender-diverse boards are not properly managed, they may not only create distrust and dissatisfaction but fail to benefit from uncommon or minority voices, resulting in lower levels of innovation and competitiveness."
Research for the Women on Boards report first started in the autumn of 2010 and found in 2011 the representation of women in the boardroom stood at only 12.5 per cent.
Since then it has found this figure has more than doubled to 26.1 per cent in FTSE 100 companies, with a new target of 33 per cent FTSE 350 firms by 2020 now being provisionally set by Lord Davies.
For Dr Firfiray however the correct approach should be to employ females based on them having a meaningful impact on the business and not just to tick off quotas.
"It may not be enough for companies to simply appoint women to board positions in response to external pressures. Rather they should ensure that the appointment of female directors is also having a meaningful impact on the business," Dr Firfiray added.
"Research evidence suggests that women bring a novel set of perspectives to the boardroom and have a unique style of engagement which focuses on seeking the opinions of others and attempting to reach a consensus. This can facilitate better boardroom dialogue and decision-making."
The Women on Boards report suggests 21 FTSE 100 companies had all-male boards in 2011, that figure has now been cut down to 11. In total of the 152 all-male boards the research first identitfied, the numbers are down to 15 today.
The government has also suggested it has plans to introduce a target to include women on the boards of all of the UK's top 300 firms as part of its equality boosting measures set to come into place in 2016.
Currently the UK lies sixth behind the likes of Norway and France in statistics the report uses to analyse gender diversity in the boardroom, despite being under a voluntary regime compared with other legislative quota driven regimes.
For Dr Firfiray the next step to help gender diversity is addressing the marginalisation felt by many senior ranking women. Address that and she believes businesses will reap the benefits.
Dr Firfiray said: "While significant progress has been made over the last few years to help women advance to senior ranks within business, the marginalisation of women in the business world is still a problem that needs to be addressed.
"Prior research has shown that women who succeed in typically male tasks such as leadership positions are more disliked and derogated, implying that women confront obstacles in work settings that are not encountered by men to the same degree
"Broadening the composition of corporate boards can serve business interests as it helps in expanding perspectives at the top and recognising the needs of diverse stakeholders.
"Although most corporations realise the value of including directors with different types of educational or professional expertise, they often neglect the importance of gender diversity."
Shainaz Firfiray teaches Organisational Behaviour on the Full-Time MBA. She also teaches Organisational Behaviour and Managing Human Resources on the MSc Human Resource Management & Employment Relations.
In addition to postgraduate teaching, Dr Firfiray also teaches Organisational Analysis on a number of undergraduate programmes.