Doing the triple jump at SoundCloud
07 September 2015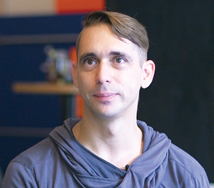 More MBAs than ever are opting for careers with start-ups, according to a recent article in Fortune magazine. The lure of colourful offices, exciting growth prospects and a flexible working culture at the likes of Google, Amazon and Apple have been attracting MBA grads away from big investment banks and firms, but what is life like for an MBA at a tech firm and how easy is it to get your foot in the door, especially if you want to change role, sector and location?
From mobile gaming to the MBA
Andy Carvell had worked in the mobile gaming industry for ten years before his MBA. "I was fascinated with computers and technology as a child. I wrote my first computer game at the age of five and after finishing a degree in Computer Science in 1999, I got my first proper job in the industry."
Working at Nokia in the days of black and white phones, Andy was responsible for programming the popular Space Impact game and gained many years of experience in the gaming industry, just as mobile phones were getting popular.
But it was time to do something different and in September 2010 Andy started his full-time MBA at Warwick Business School.
"The industry that I was in gave me a more narrow focus – it was specialised work in a technical field and I wanted to learn about a broader range of industries," explains Andy. "Throughout my career I had met people who had been to business school and I had always looked up to them and found them inspiring.
So what was the MBA year like? "It was a really stimulating year – I learned new stuff, met people from all over the world and I really enjoyed the range of topics we covered. It was just the influx of knowledge and inspiration I needed at that time."
A one way ticket to Soundcloud, Berlin
During his MBA studies, Andy worked with SponsorPay in Berlin as an intern, which formed the basis of his project and dissertation, and he fell in love with the city. With the help of the WBS Careers team Andy had been able to pull together an impressive CV and had learned the skills he needed to land a sought after role at SoundCloud, a tech start-up which was founded in Sweden in 2008 by Alexander Ljung and Eric Wahlforss, who still work at the Berlin head office.
"SoundCloud was the first place I applied for after my MBA. Having the MBA qualification on my CV definitely helped to get me shortlisted for an interview, and I ended up getting the job!"
The MBA helped Andy to complete 'the triple jump'. "I switched country, job function and industry," he explains. A big upheaval but it came at exactly the right time for Andy who joined SoundCloud as Product Marketing Manager for mobile.
Reaching millions using behavioural data at Soundcloud
That was in 2012, and speaking to Andy now in 2015, he has worked in international growth and marketing helping to build the international strategy, before moving to his current role which is heading up the User Retention team where he manages a team of six.
"What I enjoy most about my role at the moment is the ability to work on projects that affect tens of millions of users. We're working on global initiatives to retain users and build customer loyalty using data driven techniques. So we are using behavioural data to make smart, segmented, targeted messaging," he explains. "It's about getting users to come back to the platform more of the time and listen for longer."
The SoundCloud mobile app is where they see most of their growth, says Andy. Pop up notifications and push notifications tell a user when new tracks are uploaded onto the platform by people they listen to regularly or have listened to in the past. And they see double the engagement on mobile rather than desktop.
Making a mark in the tech industry
So how valuable was the knowledge he gained on the MBA when working in a start-up environment? Andy believes it is a vital tool for anyone working in tech companies and start-up culture to consider.
"What I learned at business school has been really valuable in the start-up world. Tech start-ups are crying out for people with experience and business knowledge, working in quite technical fields. The MBA gave me a toolkit to tackle work in a professional way and equipped me to deal with lots of new challenges."
"It's definitely helped me to move my life forward in a meaningful way."