'Gems of business wisdom' competition winner announced
23 December 2013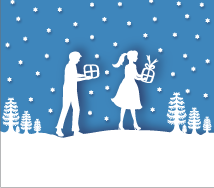 WBS is delighted to announce the winner of its 'gems of business wisdom' competition. @Aqil123 tweeted '@WarwickBSchool treat every customer as you would like your mum to be treated #wbsgift' and will shortly be the proud new owner of a Kindle Fire HD!
The competition was part of this year's festive campaign based around the Gift of Knowledge. Between 2-20 December WBS gave away articles, video and free places on its careers webinars and asked people to tweet or email their 'gems of business wisdom' in less than 140 characters using the hashtag #wbsgift. Over one hundred excellent entries were received. Some of our favourites were:
@dannybarnett: On the same theme: Vision without action is a daydream; action without vision is a nightmare
@GBonapersona: The secret of success: focus, consistency and relevancy...all mixed up with a genuine dose of passion!
@skemmo: Surround yourself with good people - it's key to hire well and then empower/delegate to them so they & you shine
@WriteTheTalk: A business without a story is like a drama without a plot.
and finally…
@rhaleuk: My gem of business knowledge: "There are 2 rules for business success: 1) Never reveal everything you know..."
The competition is now closed but you can still download knowledge giveaways and book your FREE place on our careers webinars while spaces remain available.
And don't forget to watch our beautiful festive film created in-house at WBS with guidance from animator Jim Le Fevre.