Enterprise at Warwick Conference: Relive the event
16 November 2016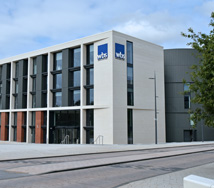 Warwick Business School hosted the Enterprise at Warwick Conference 2016.
Academics, alumni, students and guests participated in a full day of events with various talks and sessions arranged in the afternoon and evening.
The event had a packed timetable, which can be seen below:
15:00 -15:15 Welcome to afternoon session: Nicos Nicolaou, Professor and Head of Entrepreneurship & Innovation Group, WBS, and Phillip Wood, Regional Head Midlands, UBS.
15:15 - 16:15 Warwick Enterprise Support: Short introductory presentations from each of the enterprise support resources available across Warwick. Followed by interactive Q&A.
16:30 - 17:15 UBS Student Skills Session: UBS recruitment team to run a business focused skills session for all MSc and Undergraduate students on a first come first served basis.
17:15 - 18:00 Networking and Start-up fair
18:00 - 18:15 Welcome to evening session: Professor John Lyon, Associate Dean (Corporate Relations) & Professor of Practice (Entrepreneurship), WBS, and Jamie Broderick, CEO, UBS Wealth Management, UBS.
18:15 - 19:30 Keynote speeches: Professor Stephen Roper, Professor of Enterprise, WBS and Director of the ERC, Professor James Hayton, Dean, Rutgers School of Management, US, and Angela Fitzpatrick, Co-founder, The Reel Fish Co.
19:30 - 20:30 Panel interactive Question time - Chaired by Professor Nicos Nicolaou
20:30 - 21:30 Networking, Drinks and Start-up fair
Relive the event below: