Entrepreneurs told the fear of failure is not uncommon
20 November 2017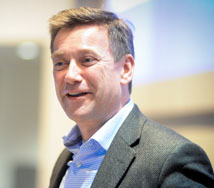 Fear of failure is not unusual for start-ups despite what most research says
James Hayton among speakers at Entrepreneurship and the Fear of Failure
Mel Ewell, HS2 Non-Executive Director, also a speaker at the event
Hundreds meet start-ups, incubators and entrepreneurs in the exhibitor area
James Hayton, Professor of Entrepreneurship, told a gathering of academics, start-ups, students and industry figures that it is not at all uncommon for entrepreneurs to suffer from 'fear of failure'.
Despite the prevailing research saying entrepreneurs are mainly immune from the fear of failure, Professor Hayton's studies found the opposite, with some using the anxiety as a motivation.
Professor Hayton was talking at the Resilience in Entrepreneurship – The Fear of Failure, which also featured talks from Mel Ewell, former CEO of engineering and infrastructure giant Amey and now Non-Executive Director at HS2, SIG Plc, London City Airport and the Manufacturing Technology Board; John Lyon, Professor of Practice in the Entrepreneurship & Innovation group, Entrepreneur and Angel Investor; and Phil Zamani, Entrepreneur and former Senior Vice President of Digital Business Unit (DBU) Cloud Services of Deutsche Telekom.
Professor Hayton told the audience how entrepreneurs need to develop strategies to cope with the fear of failure or it can lead to procrastination, paralysis by analysis, a bias towards easy goals, an escalation of commitment and eventually lead to harming wellbeing and health.
"The fear of failure can lead to fight, flight or freeze behavioural outcomes," said Professor Hayton. "There are strategies that entrepreneurs use to mitigate fear and the most popular is seeking social support, such as using a mentor to unload and gain advice on overcoming it.
"You can't have courage if you don't have fear, but a lot of research says entrepreneurs don't experience fear of failure. That is why I started looking at this question."
In the exhibitor space a host of start-ups, incubators, support bodies and entrepreneurs networked before and after the talks.
Professor Lyon told the lecture theatre how he left his job as Global Vice President at drug development firm Covance to set up his own company in clinical trials and has since gone on to be an Angel Investor.
"If I didn't have three crises before 10am it was an unusual day," said Professor Lyon. "This was at the seed funding stage, when I only needed £250,000, which, after dealing in a corporation with millions of pounds, I thought would not be a problem.
"But I was continually rejected. Why didn't I give up? It was the vision and passion that kept me going. That is what I look for now as an investor, because there will be problems to overcome and you need the passion and vision to get over them.
"You need that passion and belief to persevere - that is where the resilience comes from."
Read more about Professor Hayton's research on entrepreneurship in the papers A reconceptualization of fear of failure in entrepreneurship and Fear and entrepreneurship: a review and research agenda.
James Hayton teaches Strategic Entreprenuership on the Doctor of Business Administration and Innovation and Creativity in Organisations on the Executive MBA, Executive MBA (London) and Full-time MBA. He also lectures on Managing Human Resources on the MSc Human Resource Management & Employment Relations.