EY scholarship graduates eye roles with accounting giant
30 August 2018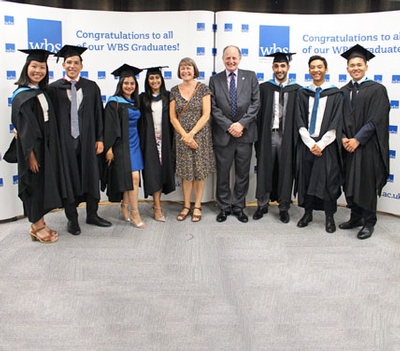 The first cohort of EY scholars have graduated from WBS
All completed two placements during their studies
They gained valuable skills to kick-start their professional careers
WBS offers a range of study abroad and intercalated year options
Six students are celebrating after becoming the first cohort of Warwick Business School EY scholars to graduate.
The BSc Accounting & Finance youngsters were recipients of an EY scholarship during the course of their degree and benefited from two work experience placements; one four-week summer placement at the end of their first year, and a year long industrial placement during their third year.
Katherine Chan, Student Recruitment Advisor at EY, said: "We'd like to congratulate our first cohort of EY Scholars on their graduation from the University of Warwick.
"During their time on the scholarship, they joined us for two placements, putting their studies into practice and applying this to working life at EY. We look forward to welcoming them back as graduates in September."
Yan Hui Khow, one of the graduating scholars, worked in the audit division of the EY Edinburgh office during his industrial placement.
He said: "As placement interns, we were given the role of a first-year associate and were expected to perform at that level.
"As time progressed, I was gradually allocated more challenging audit work, where technical knowledge from university modules came into play.
"Following up on that was taking ownership of certain areas within a big audit, and in some cases, an audit of an SME. As daunting as this may seem, colleagues in the firm were always helpful and provided sufficient guidance for me to grow professionally."
Following his graduation, Yan will be joining the EY London Canary Wharf office in September, focusing on financial services clients. He will also be working towards his professional chartered accountancy qualification.
Anika Khosla completed her industrial placement in the audit division of EY in London Bridge where she worked on clients in the Technology, Media and Telecommunications sector.
She will be returning to EY this September as a second year associate and found that a placement year was hugely beneficial to her university experience.
Anika said: "A placement year was beneficial to my final year at university because it taught me how to manage my time, interact with individuals of different ages and provide me with an opportunity to apply my first and second year university content in the real world."
If you are interested in doing a work placement as part of your degree, our dedicated CareersPlus team can provide application support. We also support student mobility through study abroad programmes and all students have the opportunity to apply for an intercalated year abroad at one of our partner universities.