Failure is an option: building resilience on the MBA
27 October 2016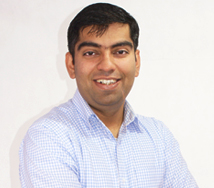 WBS Executive MBA student Muhammad Nadeem discusses how on his own path to becoming an entrepreneur he took a number of failures on the chin before creating SigmaTen Accounting Services.
I have spent the last 12 years in the corporate sector. During this time, I have been infused with an obsession for success.
Performance appraisal systems, balanced scorecards and regular one-to- ones with your manger keep you on the right track, but failure is often seen as a sin that comes at the cost of your career growth. It is not uncommon to find multiple owners of projects proclaim their importance in its success, but blame circumstances or people in the event of failure. Admitting failure openly is a rare instance.
When I embarked on setting up SigmaTen Accounting Services I was passionate to succeed.
I was aware of the statistics and risks associated with new venture failures. I attributed them down to lack of preparedness and planning.
With my strong financial background and a good idea of what I wanted to do along with detailed plans on how to approach each aspect of the business I had reasons to be confident. However, when the reality struck and new challenges emerged, I found myself alone with nobody to fall back on.
As I was my own boss I had no choice but to be honest with myself and admit that things had not worked out the way I had anticipated. Admitting failure was the most difficult part, but once I did it made me question what I had done wrong rather than defend my actions and find circumstances and people to point to.
This is where my Warwick MBA studies came to the rescue. One of the entrepreneurship modules – Entrepreneurship & New Venture Creation – introduced us to real life entrepreneurs and their success stories and emphasised one aspect of the journey that is not often obvious.
The level of resilience shown by those who succeeded was truly amazing and behind the shiny success was years of struggle. Bringing that to the forefront helped me appreciate the true cost of success.
Failure is the building block of success. Each failure leads to one of two options. You either give up or learn from it and try again. Most choose the easy first option, but very few are brave enough to keep trying. As James Dyson said: "I have never failed, I have found 10,000 ways that didn't work."
Looking back, I can recall over a dozen reasons to quit, give up and move back to the corporate sector. I have taken the difficult path of evaluating failures and to keep trying. This journey so far has helped me perceive failure as an opportunity to learn, improve and fight back.
For those considering setting up their own businesses, the following might be helpful:
Have strong faith in your product/idea. You will come across lots of people who will shoot you down. Success requires an indefatigable spirit. There are critics for even the greatest product on earth.
Be prepared to modify the product/idea, but changing it altogether is generally not a good idea.
Be resilient against adversity, success is often an iceberg. What you see is only a tiny proportion of the effort and underneath it there is a whole mass of work invisible to people.
The journey I have had so far has taught me one lesson that will stay with me forever. I see failure as an opportunity - an opportunity to see what I did wrong, learn from it and try again. The outcome of this process means a stronger, better product that can withstand the challenges from competition.
Yes I failed many times and I am not afraid to admit it.
Muhammad is Founder of SigmaTen and a Fellow member of the Association of Chartered Certified Accountants with more than 12 years' experience.