Financial Times ranks MSc Finance in world top 15
22 June 2015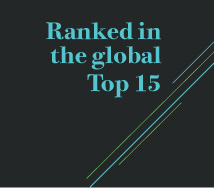 Warwick Business School's MSc Finance has been ranked in the world's top 15 by the Financial Times and rated the ninth best pure finance Masters course globally.
The Financial Times surveyed only globally accredited business schools who deliver established finance programmes. More than 4,500 alumni were questioned, with each school's graduate responses contributing 55 per cent of their school's final ranking score.
Only five UK schools were ranked in the world's top 25, with WBS third in the country and second for pure finance courses.
WBS scored highly in the career progress of its alumni, with the Financial Times rating it the eighth best in the world for students looking to establish themselves at a top company after graduating.
Professor Mark Taylor, Dean of WBS, said: "This is a tremendous result for the school and reflects the excellent teaching and hard work of our staff to do the best for our students.
"We have improved or maintained our performance in 12 of the 17 criteria, evidence of our continuing desire to keep moving forwards and build on the feedback we get from students.
"I am particularly pleased to see that 93 per cent of our finance students gained employment just three months after graduating. It is testament to our hard-working WBS CareersPlus team, who have specialist staff for the finance sector."
WBS CareersPlus now provide more support and materials to students before they start their Masters course. Some company graduate schemes close shortly after the students begin their studies, so this early assistance helps get the students into suitable roles as soon as possible.
The MSc Finance gives students the deep theoretical and conceptual knowledge needed to succeed in the finance sector, and the course has benefited from recommendations from the likes of the Bank of England, Goldman Sachs and Merrill Lynch. Six core modules cover the key areas while two elective modules allow students to focus on aspects that interest them.
There is also a steady flow of guest speakers from the finance industry and opportunities to network.
Professor Taylor added: "Getting a career in the financial industry is difficult and very competitive, and this ranking performance shows that gaining a Masters at WBS will help students stand out from the crowd.
"We work closely with the finance industry to continually update our course and with some of the best finance academics in the world we will strive to maintain this high level."
FInd out more about the MSc Finance and see the full rankings at the Financial Times.