First WBS Multicultural Scholars' students graduate
22 July 2016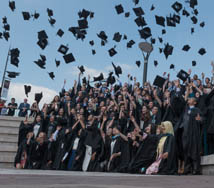 First group of Multicultural Scholars' Programme (MSP) students graduate
MSP supports academically talented low income students
Programme supports students from poorly represented ethnic groups
£2,000 financial scholarship offered per year to MSP students
The first group of Warwick Business School students involved in the Multicultural Scholars' Programme (MSP) have now graduated.
The MSP supports academically talented, low-income British students from poorly represented ethnic groups. Support is offered via a financial scholarship of £2,000 per year, as well as pastoral guidance and careers advice.
The programme benefits from the support of legal firms and other companies, both regionally and nationally. This means that we can offer opportunities for mentoring, funding, internships and advice from experts in their field.
Here a few of the students speak about their experience and how they feel to finally be graduating at WBS:
Name: Rodna Chinosengwa
Course: Law and Business 4 year degree
Rodna will be doing her LLM in International Development Law and Human Rights at the University of Warwick in October, and her long term goal is to work for UN or somewhere with a Human Rights focus.
"I feel nervous and excited today, so mixed feelings but it's all good," said Ronda.
"My personal highlight of the programme would be the support. When you first come to university it is a big place, it's really overwhelming – so just knowing there are people in place, such as a personal tutor and others around to help you in the first year was really important.
"There were so many multicultural events and it helped us feel special.
"For anyone considering the MSP, I say do it. I saw it on the website, but I didn't really think I would get on; I wasn't even going to apply. My Mum said do it, so I was surprised when I got on, but it really does help. So do it!
"From the money, the support, the network events and careers service. It definitely made my experience at Warwick so much greater."
Name: Raiyaan Shahzad
Course: Accounting & Finance
Raiyaan will be joining the Graduate Programme at KPMG in Deals Advisory. He got a first on his BSc Accounting & Finance course and was extremely grateful to his donor.
Raiyaan added: "The Multicultural Scholars' Programme has lifted a huge weight off my shoulders; both in terms of the financial assistance and the invaluable social platform it has provided me to experience non-academic aspects of university life…I certainly know without the support of MSP, I would have faced significant obstacles in completing my degree.
"I have thoroughly enjoyed every minute of my course. I particularly enjoyed the Finance oriented modules which have provided an excellent stepping stone for when I begin my Graduate Programme at KPMG in Deals Advisory."
If you are interested in find out more about the Multicultural Scholars Programme or wish to apply for funding, please visit the website here.