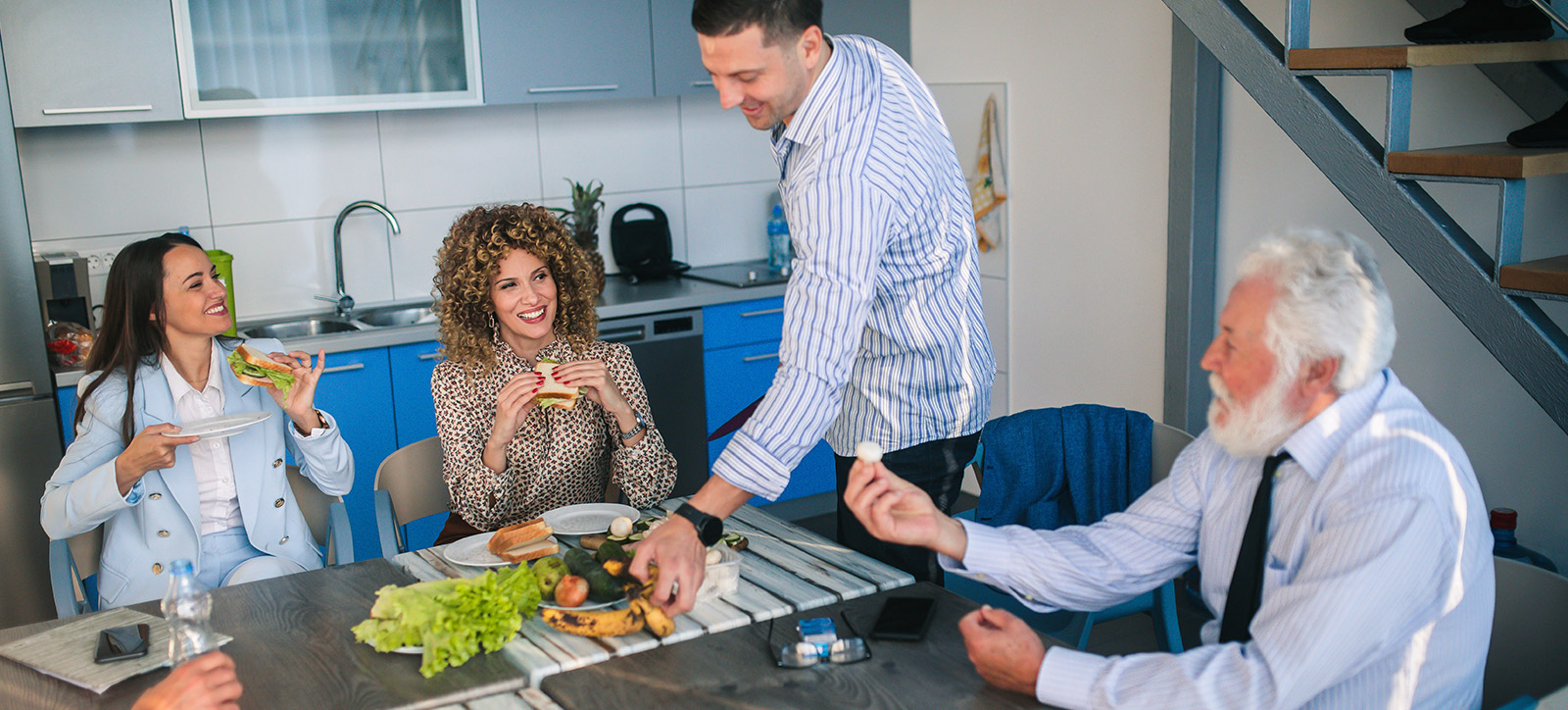 A Brazilian CEO revealed how he found a new winning strategy over lunch with staff
It was a sandwich not a strategy meeting that transformed the fortunes of the Brazilian software company, which serviced the country's Lan houses (internet cafes).
The founder had rightly predicted that the company would have to pivot before a widely available internet made its client base obsolete. But instead of plotting behind boardroom doors, it invited internal and external parties to answer the big 'what's next?'
One day, over an informal lunch, the customer service leader suggested a new application for their system. The founder and CEO liked it, so got the rest of the customer service team and end-clients involved in developing the new product.
The new strategy and product were such a success it is now used in 150 countries – all thanks to the CEO stepping out of the boardroom and consulting much more widely.
What is open strategy?
Open strategy may be either a practice that develops naturally within an organisation (particularly in younger companies in the tech space) or adopted proactively by established companies that want new ideas in their strategy making process.
Increasingly, organisations are opening the decision-making process in this way to include third parties, from customer service representatives to investors.
Open strategy's popularity has grown in step with advances in online collaboration and communication tools, as well as changing social attitudes to sharing information. It is part of the evolution of strategy concepts and how strategy is increasingly being practiced in organisations.
The wider pool of ideas results in a more creative, higher-quality strategy with improved results in areas such as international expansion.
Five questions to ask before adopting open strategy
Here, I explore five critical questions every business must ask before adopting open strategy. I also share case studies from my research with Rosalia Lavarda, of Federal University of Santa Catarina, and Dinorá Floriani, of the University of the Itajaí Valley, exploring the link between open strategy and international expansion, such as the casual interaction that changed the Brazilian company's future.
1 What are the benefits of open strategy?
In an era where it is possible to share every aspect of our lives online, attitudes to information exchange have evolved.
Employees, for example, want to be actively included and participate in strategy development. In turn, their diverse opinions and insights can accelerate the plans of an organisation.
"You can't just [attract an international client base] with four heads; you must get more people on board," said the Brazilian CEO we studied. "We have 80 people in the company collaborating. With inclusion, they will feel more like the owners of the product since they will help us build it brick by brick."
2 What are the risks?
The utopia of open strategy is the multi-level exchange of brilliant ideas, which combine to inform the direction of a business.
However, the practice also has the potential to cause damage in the following four areas:
Speed, flexibility, and control – this happens if there are too many participants in the strategy process.
Engagement – if stakeholder suggestions are not adopted, or if stakeholders have a say in one area and not another.
Secrecy and competitive advantage – if intellectual property (IP) is shared too widely.
Morale – if stakeholders feel burdened with the pressures of strategy development.
3 What is the trade-off – how open are you going to be?
To avoid the above risks, it is worth noting that open strategy does not have to be absolute; it can zoom in on particular development areas, such as international expansion.
Another key point is to recognise the balance between transparency – how much and what information you share – and inclusion – how much you involve others and balance these two dimensions to ensure the success of the open practices.
4 Who are you going to include?
Our research compared the open strategy practitioners of companies in Brazil and England. Whereas the Brazilian company consulted its staff and clients on its international expansion strategy, the English company relied mostly on its investors and NGOs (Non-Governmental Organisations).
"We used [the NGOs'] networks to find other countries that were interested in collaborating with us. Through the accelerator, we found opportunities in Chile and Costa Rica as well as in South Asian countries," said the English CEO.
The difference in approach was likely due to differing home country contexts: Brazilian companies have less access to external investors – the go-to open strategy partner for the English company.
5 How will you implement the open strategy?
The practical steps to implementing an open strategy depend on the characteristics of the business.
Methods include strategic partnership, co-creation, democratic decision-making, openness to ideas, negotiation, and collaboration. Tools include strategy jams, crowdsourcing, formal and informal meetings, and platforms like Basecamp and Slack.
For example, using Basecamp, the Brazilian CEO called on the entire company to help solve the problem of falling sales.
Separately, its marketing team meets once a week to collaboratively decide on its SEO (Search Engine Optimisation) strategy taking into consideration suggestions from the customers received via chats, emails, and social media.
Keeping an open mind
Open strategy is a relatively new business phenomenon which is only going to become more popular as technology enables increasingly easy communication and collaboration.
However, it is not without risk. It may be difficult for the board of top-down organisations to consider such a change, but the five questions above offer a good starting point for discussion.
We make a call for managers to use wider inclusion and greater transparency to open up their strategies and, as a benefit, receive and share ideas with different people who may bring different knowledge and backgrounds to the strategic issues.
By opening up their strategies, managers may face some dilemmas and risks but can also have, as an outcome of openness, a change in the organisations' direction or in their own strategic decisions.
Above all, though, a move to open strategy will require an open mind.
Further reading:
Bellucci, C., Lavarda, R. A. B. and Floriani, D. E. 2022. Open strategizing and accelerated internationalization process in different contexts. Journal of Strategy and Management.
Christiane Bellucci is Assistant Professor of Strategy and teaches Strategy & Practice on the Executive MBA and Distance Learning MBA, and Strategy, Analysis & Practice on the suite of MSc Business courses and MSc Marketing & Strategy. She also lectures on Corporate Strategy on the Undergraduate programme.
For more articles on Strategy and Organisational Change sign up to Core Insights here.