Robin Wensley was Dean of Warwick Business School from 1989 to 1994
Tributes have been paid to former Dean of Warwick Business School Robin Wensley, who has sadly passed away at the age of 77.
Professor Wensley was Dean of Warwick Business School from 1989 to 1994 after joining WBS in 1986 as Professor of Strategic Management and Marketing.
He went on to gain one of the highest profile positions in management research in the UK, when taking over as Director of the Advanced Institute of Management Research (AIM) in 2004, with AIM given the task by the UK Government to improve how business leaders operated to boost productivity and innovation.
As a Fellow of the British Academy of Management, the Chartered Institute of Marketing (FCIM) and The Academy of Social Sciences, Professor Wensley's influence on academia and business was immense. He was awarded the BAM Richard Whipp Lifetime Achievement Award in 2012 and twice won the Alpha Kappa Psi prize for the most outstanding article in the top US Journal of Marketing. He also collected the Millennium Prize for the best paper in the Journal of Marketing Management, while being a regular contributor for Harvard Business Review.
He was appointed to the Council of the Economic and Social Research Council (ESRC) from 2001 to 2004 and was a member of the ESRC Research Grants Board from 1991 to 1995. He was also a member of the Advisory Board of the Warburg Institute and the Academic Advisory Board of the Chartered Management Institute, while from 1998 to 2003 Professor Wensley was Chair of the Council of the Tavistock Institute of Human Relations.
Andy Lockett, current Dean of WBS and Professor of Entrepreneurship and Strategy, said: "Robin has left a great impression not only on the school, but on the field of management research and teaching, and the business world.
"As Dean he helped lay the foundations for the world-class facility we have at our disposal today. It is notable that under his leadership in 1989 WBS was one of only three British business schools to achieve the top five star status in the Research Assessment Exercise.
"His death is very sad news for the school and our WBS community. Our thoughts are with his family."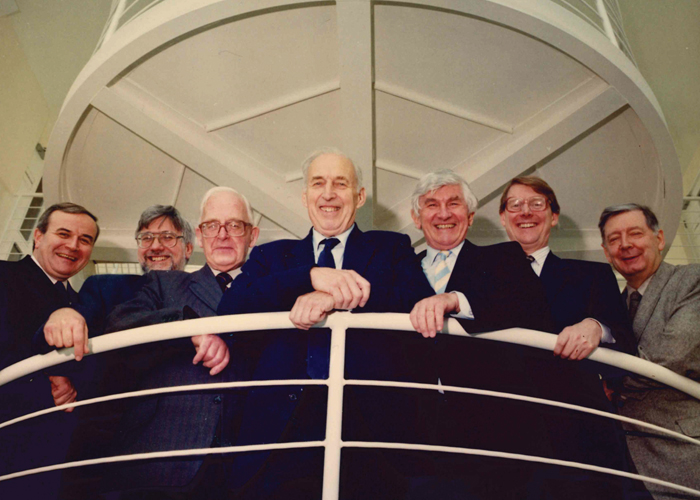 Dean's den: WBS Deans line-up in the old building, (l-r) Sir George Bain, Robin Wensley, Roger Fawthrop, Brian Houlden, Derek Waterworth, Robert Dyson, Thom Watson
Professor Wensley was also Deputy Dean of WBS in 2000 under Howard Thomas.
Professor Thomas said: "Robin was a man of great ideas, I am extremely saddened by his death.
"I taught him as a student at London Business School and we kept in touch. He asked me to be Dean at WBS and as a deputy he was my confidant - I could tell him anything, and he would tell me if I was wrong.
"He was wonderful at giving advice, a very good listener, a natural debater and very friendly. He embodied the culture and values of WBS and was universally loved and respected. He was a person who could bring people together.
"Robin was a giant in management research and education. He transformed AIM to become a strong component of business schools in the UK for more than a decade."
Born in London in 1944, Professor Wensley studied Natural Sciences at the University of Cambridge for his Bachelor's degree and graduated into a job at food business Rank Hovis McDougall as Brand Manager, before completing an MSc Business Studies at London Business School where he helped Harold Rose with the 1970 Rose Report that advocated considerable expansion of UK business schools.
His first job in academia was as a lecturer at Ashridge College in 1971, before completing a PhD in Economics at London Business School in 1979. After retiring from WBS, Professor Wensley took up a fractional appointment at the Open University and advisory work for the University of Southampton Business School.
Professor Wensley's stellar career saw him signed up by the UK Government's new Sunningdale Institute under Tony Blair's tenure as Prime Minister, which looked to overhaul the civil service with academic rigour and research.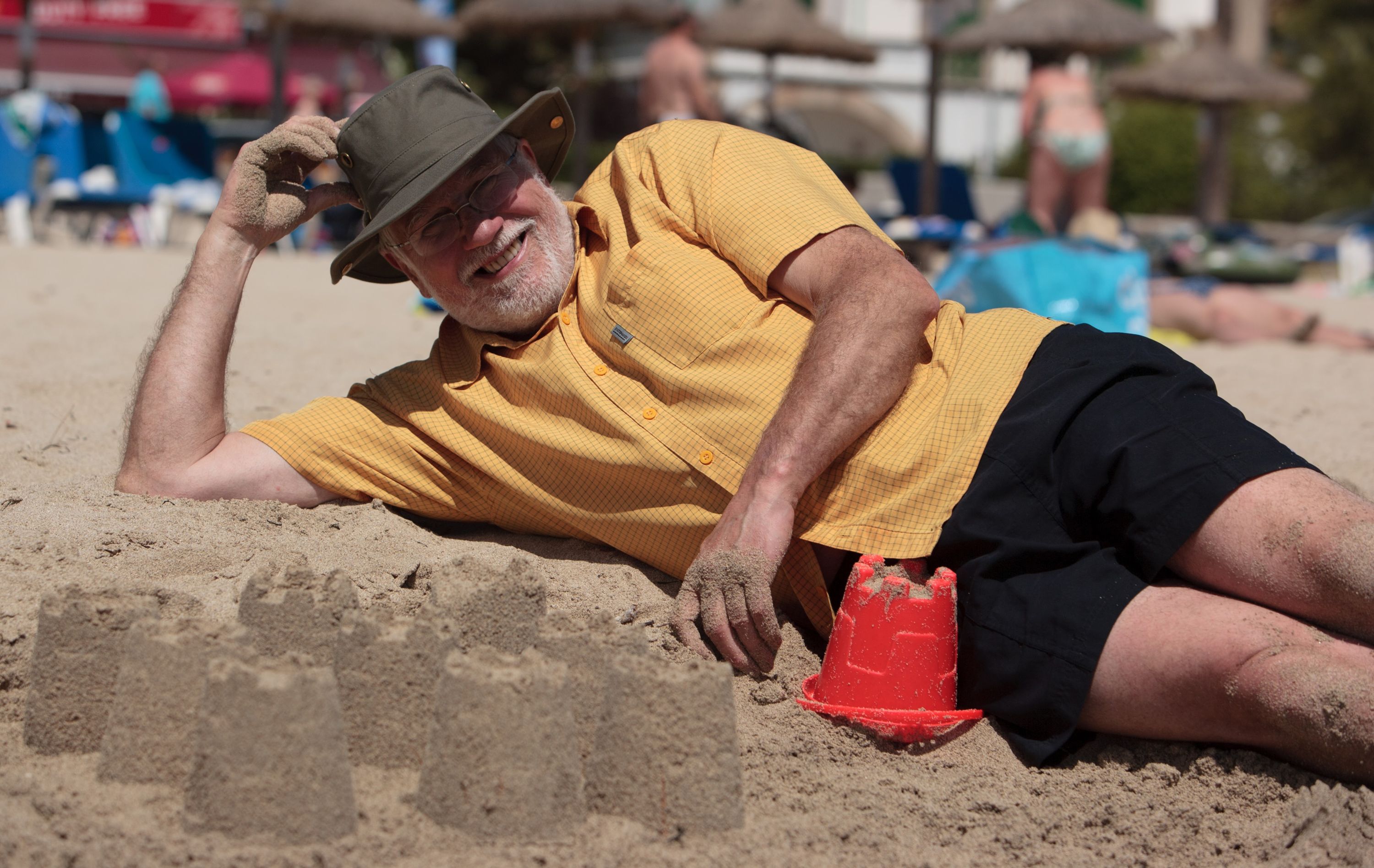 Family time: Robin Wensley making sandcastles on the beach in Majorca in 2012
Sir George Bain brought Professor Wensley to WBS alongside another eminent marketing academic in Peter Doyle.
"It was a game-changer for Warwick," said Sir George. "Robin had great intellectual depth and dressed like a Professor of Sociology, while Peter wore a business suit and was doing lectures all around the world – they were both brilliant.
"We elected Robin to be Chairman of the school and take over from me, as he was a reflective practitioner and a safe pair of hands. He was very trustworthy, if you shook hands with Robin you knew you had a deal – he had high personal standards as well as high academic standards."
Robert Dyson was Dean at WBS twice, from 1978 to 1981 and then from 1998 to 2000, and fondly remembers a great academic mind.
"Robin was tremendous at seeing the way forward," said the Emeritus Professor. "He was a visionary. He was a wonderful facilitator and moved Warwick forward – he will be sorely missed."
Chris Voss, Professor of Operations Management, worked with Professor Wensley at London Business School, WBS, and at AIM.
"Robin had such great credibility with academics because of his superb research credentials," said Professor Voss. "He knew what academics wanted, how to motivate them and create an environment for them to thrive - he was a great person."
For information on Professor Wensley's memorial event and for those wishing to share memories of him or leave messages of condolences on his tribute page please visit here.