Former WBS Dean wins lifetime achievement award
11 January 2013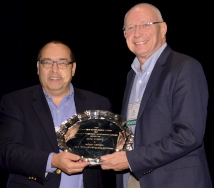 Former Warwick Business School Dean Bob Galliers has become only the third Briton to be bestowed the highest award possible by the Association for Information Systems.
Galliers, who was Dean of WBS from 1994 to 1998, was awarded the prestigious LEO Award for Lifetime Exceptional Achievement in Information Systems at the AIS International Conference on Information Systems in Orlando, Florida in December.
AIS is the premier global organisation for academics specialising in Information Systems. The award, named after the world's first commercial applications of computing (the Lyons Electronic Office), recognizes truly outstanding individuals in the field of Information Systems who have had a global impact.
Galliers has worked in the field for over 30 years, and on three continents, authoring more than 250 publications, including nearly 80 journal articles and 11 books.
He has been a keynote speaker at more than 40 international conferences, and his work has been cited more than 4,000 times. He is founding editor-in-chief of the Journal of Strategic Information Systems, which celebrated its 20th anniversary last year.
"It's of course a great privilege to have one's work recognized by the international community in this way, but also very humbling," said Galliers. "I would like to thank the AIS for this recognition, it is a great honour to be ranked among such luminaries of the field."
Galliers, who is due to deliver a seminar at WBS next month, moved to the US in 2002 as Provost of what was then Bentley College, heading up the school's progress to university status and EQUIS accreditation. He became its inaugural University Distinguished Professor in 2009.
After seven years in Australia as Curtin University's inaugural Professor of Information Systems, Galliers joined WBS in 1989 as Lucas Professor of Business Management Systems before becoming Dean in 1994.
In 1998 Galliers moved to INSEAD in France as a Visiting Professor before joining London School of Economics' Department of IS where he was Research Director.
Well regarded for his professional work and integrity, Galliers is also a Fellow of the British Computer Society, the Royal Society of Arts, and the Association for Information Systems, of which he was President in 1999.
Learn more about Warwick Business School's Msc Information Systems Management & Innovation course here.