Foundation Year a building block for ambitious students
13 November 2015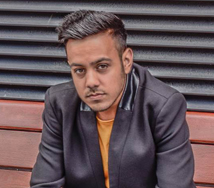 Major heart surgery Mohammed Usman's changed his approach to life
The Bradford teenager embarked on a charity crusade to support children
Mohammed has taken his crusade to Wembley Arena and the United Nations
He encourages others to believe in themselves and to make a difference
Not one to shy away from a challenge, Mohammed Usman, has spoken in front of a packed Wembley Arena, carried out a host charity projects in his local area and presented at the United Nations in New York. So how does his latest challenge, starting the Foundation Year at Warwick Business School compare?
Born and bred in Bradford, Mohammed's story began, or rather began again, more than 10 years ago in 2004 when, aged just eight years-old, major heart surgery involving a heart valve replacement made him reconsider his whole outlook on life.
The genuine possibility he would not pull through the operation made him fully grasp the second chance in life he was given, and look to make an impact by helping youngsters in his community. He started by helping at charites, local council events and generally keeping busy.
Since his life-changing experience, Mohammed has travelled to the UN headquarters in New York to represent humanitarian charity Mother Helpage UK, travelled to India to help build a school and spoke in front of 12,000 people at Wembley Arena as part of the UK's first ever WE day event – one of 14 events around the world for pop stars and inspirational speakers to celebrate youngsters making a difference.
There, he shared the stage with Richard Branson and former US Vice-President Al Gore, while also receiving a pep talk from pop star Ellie Goulding.
Now he has begun his latest adventure, participating in the WBS Foundation Year, so where does it fit into Mohammed's plans?
"The Foundation Year is all about establishing building blocks. It will better prepare me for University education," says Mohammed, 19, who won the Yorkshire Children of Courage Awards Fundraiser of the Year in 2014. "I want to go away from the cultural stereotype of going into certain professions. My parents wanted me to pursue a career in medicine, but once I got involved in the Barclays Lifeskills programme it gave me a new outlook.
"There are many positive contributions an individual can make; the trick is to find the route, which is most fulfilling. Warwick is globally recognised, and will develop me as a person and help me improve my networks. This is all going to be possible because of enrolling at Warwick Business School.
"I've already achieved the impossible once by sharing the same stage as people like Richard Branson and going to a UN meeting with the likes of Kofi Annan and Ban Ki Moon, but there is so much more for me to achieve yet!"
Mohammed – who also received The Diana Award in 2014, awarded to inspirational young people – says in terms of advice for students, regardless of their cultural background, he believes it is important to just to stay focused.
"Believe in yourself, there will always be people saying you can't do something," he adds. "But if you believe in yourself there will always be a way around. Stay focused and determined and you will be able to really achieve things
"It is great that Warwick Business School is providing an opportunity to students from disadvantaged areas such as myself to make a difference."
Despite all his achievements in a relatively small amount of time, including his current work with Step up to Serve – of which HRH Prince Charles is patron – and the charity's #Iwill campaign, Mohammed believes he can still improve himself.
"I don't have the perfect communication skills," he says. "I still need to improve in areas and the Foundation Year is providing the building blocks to do this."
As a Barclays Lifeskills Ambassador – now featured in a sequence of UK TV adverts where students discuss things such as talking with clarity, inappropriate email addresses and even body posture – and with the Foundation Year plus all his other work, how does Mohammed keep the drive and determination to do everything?
"My advice is having a routine and to prioritise things," he says. "So in the morning I will set out tasks in the day. I'm not a morning person, but the routine gets me in the frame of mind to work through the day until the early hours when there are fewer distractions."
Fellow Foundation Year student Ruhi Haroon, 20, of Coventry, works in the evenings for Barclays in its disputes team, so is juggling work with study. Like Mohammed, she is part of the Lifeskills programme.
At the end of her studies Ruhi wants to set up her own business.
Unlike Mohammed however, Ruhi took a year out and sees the Foundation Year as a perfect way to get back into the swing of education and ease her way into academic study.
"I have decided to go down the Foundation Year route to fill in the gaps I feel I missed during A-Levels, through subject choices, and ease myself back into full-time education," says Ruhi. "For many people this Foundation Year will be a confidence booster, but for me it is about developing my maths skills.
"Some students may be quite introverted, so the Foundation Year is a great way to build your confidence. You have to be a bit fearless, put yourself out there and just believe you can do it.
"I actually enjoy studying so obviously I want to get a good degree, but I'm looking forward to the networking side of things.
"For people considering the Foundation Year I would say you don't necessarily have to be the most academic of people to succeed.
"I don't think the most academic people are always the most successful in life, so just enjoy the creative way being at university on the Foundation Year allows you to approach things. I think University opens up opportunities to really think creatively that people may have missed at school."
Not one to sit still, Mohammed launched his own social enterprise earlier this year, OurFutureTV, a platform to inspire young people founded by young people and is there to give a voice to youngsters all around the UK.
Despite always having plenty to do, Mohammed does see taking time to unwind as something equally important.
"I like going to the gym, and while I was at home I'd make sure I'd spend a couple of hours relaxing and catching up with my friends," Mohammed adds.
"Ultimately though I enjoy all the work I do, so I don't consider it work. I love doing it so I don't feel like I'm working, it's a passion not work."