What I did next: Breaking into the world of finance
25 November 2015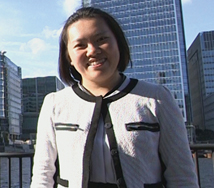 Moving from China to the UK to study is a big step but for some it can turn out to be the best move they have made. Callie Wang has found her dream job in her dream city after studying for four years at Warwick.
After studying an undergraduate degree in Law and Business at the University of Warwick, Callie decided she wanted to pursue a Masters in Accounting & Finance at Warwick Business School to enhance her career options.
With the help of the careers service and support of her network at WBS, she was able to secure a place on a Graduate programme with Barclays after her course, and three years later Callie is working at Barclays in Canary Wharf as a Credit Manager. It's a varied role that sees her engaging with a range of different clients and weighing up investment decisions on a daily basis.

So what's it like to work and live in the City and how did WBS prepare Callie for the fast-paced and varied role she is now in?
We recently caught up with Callie in Canary Wharf to find out.