FT Festival of Finance: Is CAPM redundant?
29 June 2016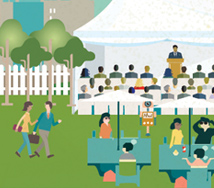 FT Festival of Finance will involve two speakers from WBS
Thanassoulis will be defending the much-criticised CAPM
The investment model is being dropped by some fund managers
Without CAPM Thanassoulis says investment would be guesswork
John Thanassoulis, Professor of Financial Economics, will tell the Financial Times' Festival of Finance that the Capital Asset Pricing Model (CAPM) is still a useful framework for investment despite the bombardment of criticism it has taken in recent years.
At the festival on Friday in the City Professor Thanassoulis will discuss how some in the finance sector are tossing aside the 50-year-old formula for new-fangled heuristics with a panel including Mark Tluszcz, Co-Founder of venture capital firm Mangrove Capital Partners, Jacco Brouwer, Head of Debt Advisory at consultants Alix Partners, and Marc Goedhart, Senior Expert at McKinsey & Co.
Sujeet Indap, US Editor of the Financial Times' LEX Column, will host the debate that will examine how modern finance is adopting new models in the wake of the 2007/08 financial crash.
"CAPM is not perfect, but it has been a very effective model for investment decisions," said Professor Thanassoulis, who teaches Corporate Finance on the Executive MBA. "There are lots of assets where returns have not been predicted correctly by CAPM, but I think it would be unwise for investors to throw the 'baby out with the bath water'.
"It is imperative in investing to have judgement, so good finance professionals must tweak the findings of CAPM to allow for situation specifics. But if you don't have a framework to begin with, then all you really have is guesswork."
CAPM works out the expected return of an asset by determining its beta - a measure capturing how much of the asset's risk cannot be diversified away - and was introduced by Jack Treynor, William Sharpe, John Lintner and Jan Mossin independently in the 1960s.
Various versions of it became the accepted model for investors, but it has come into question ever since a study by legendary US economists Eugene Fama and Kenneth French found CAPM under-predicts low beta stocks and overvalues high beta assets; and that other variables have predictive power for returns, such as size, earnings-price, debt-equity and book-to-market ratios.
It left many believing CAPM is useless in the messy real world, but Thanassoulis still believes it has a place, especially when comparing different assets to invest in.
"If you decide to go into buy-to-let, when you go to buy the house you don't use CAPM to try to convince the vendor to lower the sale price," said Professor Thanassoulis, who also teaches Finance and Business Economics for Senior Executives.
"But when you are deciding whether to do buy-to-let at all, or invest in a portfolio of government bonds, or perhaps the US stock market, then you have a much harder question to answer. How do the returns and the risks, compare? To answer that you need the CAPM framework."
Find out more about the FT Festival of Finance here.