Gender pay gap issue set to continue for some time
25 November 2015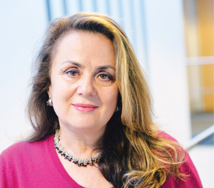 WBS academic Marianna Fotaki says women are under presented in top jobs
She points out globally the gender pay gap has widened
She also argues men's earning generally outstrips that of womens
An unconscious bias by both genders is partly to blame says Professor Fotaki
The gender pay gap is likely to continue as it is often down to an unconscious bias by both men and women writes Marianna Fotaki, Professor of Business Ethics.
In the last decade women have been entering the professions and managerial positions in roughly the same proportions as men in the UK. However, they remain vastly underrepresented in top jobs while the gender pay gap is reported to have widened since 2006 from 92 per cent to 95 per cent globally.
In the UK, women make up around a quarter of FTSE 100 board members in 2015 up from 12.5 per cent in 2011, but there are still fewer than eight per cent of women in executive roles. Equally, the gender pay gap in the UK persists mainly because the growth in men's earnings outstrips that of women at the top end of the earnings distribution.
Research shows that the wage gap starts from day one and grows continuously throughout women's careers while the 'narrowing' of pay gap when it happens is mostly confined to early stages of women's careers.
The gender pay gap is growing especially, in highly paid professions such as accountancy, law, consultancy and business, but even in 'feminized' sectors men tend to be over-represented in top paid jobs.
Read the full article on HRBullets here.
Marianna Fotaki teaches Sustainability and Business Ethics on the Full-time MBA, Leading and Managing Change and Ethical Leadership on the MSc Business and Governance and Corporate Responsibility on the MSc Management suite of postgraduate courses.