Top undergraduates win prizes from UBS
21 November 2013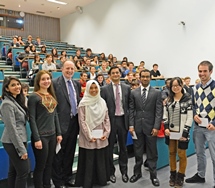 Prizes totalling £400 have been awarded to the best-performing WBS students for their outstanding achievements in their Financial Management modules. The prizes were sponsored by the investment bank UBS.
The prize of £200 for the Financial Management core module was shared equally amongst four BSc Accounting & Finance students: Urte Dunauskaite, Nurrawaida Hamzah, Susan Mathew and Harikumara Sababathy.
The prize of £200 for Foundations of Financial Management was shared equally between two BSc Management students: Ying Liu and Ivan Pedretti. This module is core for first-year BSc Management, BSc International Management and BSc International Business students, and a very popular elective for first-year BA Law and Business Studies students.
The prize-giving was followed by a guest lecture by Deepak Sran, a Director in the Equity Capital Markets team of UBS, and a Warwick alumnus. Deepak spoke about the recent initial public offering of shares in Royal Mail. UBS was one of two lead investment banks advising the Government on the share sale and Deepak was personally involved.
The evening was rounded off with a drinks reception, courtesy of UBS, at which students had an opportunity to network informally with the UBS representatives present.
Professor Peter Corvi, Financial Management module leader, commented, "WBS is extremely grateful to UBS for sponsoring these prizes, delivering a guest lecture and hosting the drinks reception afterwards. This is the sixth year in a row that UBS has done this. Deepak's presentation on last month's £2 billion flotation of Royal Mail could not have been more topical and offered our undergraduates unique insights into initial public offerings that only someone directly involved in the process could have provided. We are very privileged to have had the chance to listen to him."
Professor Louise Gracia, Associate Dean of the WBS Undergraduate Programme, added "All the prize winners achieved a mark in the mid 80%, an outstanding performance and an indication of the quality of all our undergraduates. Once students successfully complete their undergraduate course, they are highly sought after and valued by employers. A Warwick degree creates the possibility of entry into a wide range of exciting and rewarding careers and provides an excellent platform for students to build on through Master's level study."