Healthcare innovation lessons from the pandemic
29 September 2020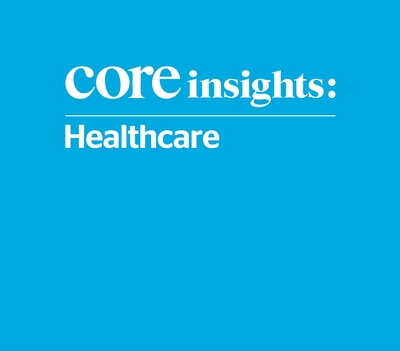 By Charlotte Croft, Gerry McGivern and Rene Wiedner
"It meant the world to me as your mum. It was heart-breaking. I went away and cried afterwards. But to actually see you, especially when I can't touch you, or go to the hospital and see you, to see you on the screen - it gave us hope."
This is what Matt Dockray's mother told him on Sky News after he had come out of intensive care. The 39-year-old fought for his life in hospital after contracting COVID-19, but had to do it without seeing his friends or family as visitors were banned from wards.
With restrictions on smartphone apps like Facetime because of privacy issues and security risks, intensive care unit nurses came up with a new way of keeping seriously ill and frightened patients in touch with their loved ones during the pandemic.
They organised encrypted ipads that dialled out to families and put them in touch with their loved ones. Matt was one of many who benefited as he battled the virus while strapped to a ventilator for weeks on end.
The initiative started at King's College Hospital, London, but quickly grew into the iComms4ICU project, distributing iPads to hospitals across the country so friends and family could see their ill loved ones, and in the most tragic cases say their last goodbyes.
It is one example of the innovations that the UK National Health Service (NHS) quickly came up with to cope with the spiralling pandemic as hospital admissions rapidly outstripped resources at the height of the coronavirus outbreak.
Healthcare systems across the world have been put under monumental pressure. With resources already stretched in many healthcare systems, the pandemic has pushed some beyond the limit. In the UK, with resources scarce and working under the pressure of an extreme emergency, doctors and nurses have had to improvise on the spot.
Hospital CEOs often see innovation as a strategic, radical and large scale system change that takes a huge amount of investment of time and resources. But most innovations are small incremental changes, and these often have a long-lasting effect on performance.
During the crisis these small innovations - what we call improvised innovations - were implemented by hospitals to cope with the pandemic and to maintain some sort of normal service, and some of them, like the iPads, have been rolled out throughout the system.
So, as we enter an economic crisis that will impact healthcare systems and prepare for a potential second wave, it is important healthcare leaders take the lessons from the improvised innovations that occurred so far and transfer them to other parts of the system. For example, can the 'bedside learning' and deployment of 'learning co-ordinators' used at the temporary NHS Nightingale hospital in London be diffused across the NHS?
More importantly, can healthcare leaders recreate the conditions to foster improvised innovation in normal times by looking at the circumstances at how they arose and reproduce them in other contexts?
There were some unique drivers for such improvised innovations during the pandemic where an urgency was coupled with scarce resources. Although, healthcare systems like the NHS have been under-resourced for the last decade, this emergency saw the lifting of some formal regulations to allow urgent innovations to happen. There was also a rare collective sense of community as people came together to battle the virus in lockdown, with the UK's NHS becoming a badge of honour with huge public support.
But there were also some drivers that were not unique to the pandemic and which are useful for leaders seeking to shape, monitor and leverage improvisation in their hospital. Paradoxically, research has shown that these motivational forces for improvised innovation often occur in departments and areas that are not the places where hospital bosses are ploughing in money and resources to introduce radical change. Instead, they happen almost unnoticed by bosses and because of a lack of scrutiny from leaders.
During the pandemic senior staff were moved from their usual departments to deal with the influx of COVID-19 patients, leaving junior staff to step up to more senior roles. This can spark innovation, because these junior clinical staff are no longer in the usual routine of the 'way we do things around here' and bring a fresh perspective. For example, in response to a crisis in Kenyan healthcare, mid-level staff challenged senior doctors and introduced new 'evidence-based' medical practices that improved the care of children in a network of hospitals.
Reducing the headcount in a department may also lower 'co-ordination costs'. That is, incremental innovations can be lost when there are a large number of people involved, it just becomes too complex to organise and spread the new practice.
But with fewer staff available it becomes less complicated for the innovation to spread and take hold. Also, hospitals are beset with professional barriers, where research has found surgeons and senior doctors have an undue influence over new innovations and disciplinary rivalries mean managers are side-lined. With many senior doctors moved to the frontline, this barrier to innovation is lowered away from the frontline.
Thirdly, during the crisis with resources stretched and senior staff focused on the pandemic emergencies, there is less scrutiny on other areas. Other departments can experiment without the gaze and critique of senior management looking over them.
Research shows that small 'skunk' teams of creative, entrepreneurially-minded and usually younger people, without leaders overseeing them and left to experiment, produce great results. These groups can emerge unintentionally during a crisis, but can also be drafted together by hospital leaders to recreate the sense of adventure and freedom.
The examples we have seen during the pandemic, such as palliative-medicine doctor James Coxon starting the 3DCrowd UK campaign to use people's 3D printers to manufacture face masks, have been born out of a desperate sense of urgency and scarcity.
But we have found there are other drivers for innovation that can be re-created without the urgency of a global pandemic. Hospital leaders need to look at ways of re-creating these 'safe spaces' for experimentation and improvisation, logging their success or otherwise. Then deciding what is scalable and putting in processes to spread them to other departments and ultimately across the healthcare system.
They also need to attend to the tension between improvisation and regulation, and whether, like during the pandemic, some of this bureaucracy can be lifted.
Importantly, we are not advocating that scarce resources is the mother of improvisation. Lack of funding and resources will lead to a general deterioration of, not just health services, but staff morale as well. But there are lessons to be learned for the fostering of innovation from the pandemic that health leaders could take note of.
Further reading:
Wiedner, R., Croft, C. and McGivern, G. (2020) "Improvisation during a crisis : hidden innovation in healthcare systems", BMJ Leader.
Wiedner, R., Barrett, M. and Oborn, E. (2017) "The emergence of change in unexpected places: resourcing across organizational practices in strategic change ", Academy of Management Journal.
Charlotte Croft is Associate Professor of Organisation & Human Resource Management and a former Intensive Care Nurse. She lectures on Leading and Managing Change on MSc Business with Consulting and MSc Management. She also teaches Healthcare Improvement on the Executive MBA (London).
Gerry McGivern is Professor of Organisational Analysis and teaches Management of Change on the Distance Learning MBA and Changing Organisations on the Undergraduate programme.
Rene Wiedner is Associate Professor of Organisation & Human Resource Management. He teaches Current Issues in Leadership on the MSc Business with Consulting and Critical Issues in Management on the Undergraduate programme.
For more articles on Healthcare sign up to Core Insights here.