High-flying undergraduates win £400 in UBS prizes
12 November 2015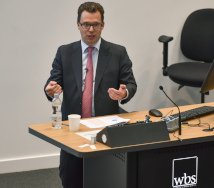 WBS undergraduate students win £400 worth of prizes courtesy of UBS
Prizes went to top performing students in FInancal Management modules
Eighth year running UBS has hosted an event, guest lecture and prize ceremony
In the guest lecture WBS alum and UBS Managing DIrector, Tobias Wagnert, discussed mergers and acquisitions
High-flying WBS undergraduates have been awarded prizes totalling £400 by investment bank UBS for their exemplary performance in the Financial Management modules.
This is now the eighth year UBS has sponsored these prizes and provided a guest lecture at WBS. This year's event saw a packed lecture theatre of WBS undergraduates, including the new Foundation Year students, and they were given valuable insights into the mergers and acquisitions business by a senior UBS investment banker.
For the Foundations of Financial Management module, Rashmitha Goonatilake, of Sri Lanka, and Ai Yew Li, of Malaysia, shared joint first prize and were each presented with a £100 Amazon voucher.
Ai Yew, 20, a second year BSc Accounting & Finance student who transferred across from BSc Management, said: "It was a wonderful surprise to be informed that I was joint top in a large class of many excellent students.
"After I completed my first year, I decided that I really enjoy accounting and especially finance so I wanted to change to that course. I put in a lot of effort and the result shows just how hard I have worked in this module. Hopefully in the future I can find an internship or other position within the accounting or finance sector."
Gah Man Lee won first prize, a £100 Amazon voucher, for the Financial Management module while Theklia Mouyiari and Huifen Wu were joint second, winning a £50 Amazon voucher each.
Gah Man, 21, of Malaysia, added: "'I'm really honoured to have received this award. It's great recognition of my hard work. I would like to express my deep gratitude to my teachers and all my friends who helped me throughout my first year of study."
The prize-giving was followed by a guest lecture, entitled Mergers & Acquisitions: The art of buying and selling companies, by Warwick alumnus Tobias Wagnert, Managing Director of UBS Investment Banking.
Mr Wagnert told a captivated audience about his time at UBS and some of the mega-deals on which he has worked, including the £16 billion defence and sale of British Airports Authority and the £750 million sale of the UK Government's remaining 40 per cent stake in Eurostar.
He said: "Grab all the opportunities you can, it will make your career more interesting."
He also told students that preparation is a big part of the M&A process and is often just as important as the deal itself.
Looking back on his long and successful career at UBS, he admitted that the M&A market has its up and downs, "but you learn as much when the appetite for deals is down as when it is up".
For Mr Wagnert, a big part of any M&A deal is the psychology, as getting into another person's mindset can make or break a deal.
"Nobody wants to go through all that preparation and hard work and then leave empty-handed with a sense of failure – the psychology is important," he said.
Rashmitha, 19, was very impressed by the lecture and said: "His talk is something that I would truly recommend for anyone interested in investment banking. He is very experienced and has reached the top in his field, making this talk very useful.
"The networking event afterwards was great, too. All of the UBS representatives were very friendly, approachable and passionate about their work. Having experienced bankers, such as Tobias, and the Campus Recruiting Team, as well as recent recruits to UBS who are just starting out on their careers it has enabled us to gain insights about UBS from different perspectives."
Professor Peter Corvi, Financial Management module leader, said: "WBS is extremely grateful to UBS for continuing to sponsor these prizes, deliver a guest lecture and host a drinks reception afterwards.
"Our long-standing relationship with UBS speaks volumes about the high regard in which the bank, a major global player, holds our undergraduates. Our students responded in kind by turning out in huge numbers and filling every seat in the auditorium."
Dr Olga Lebedeva, Foundations of Financial Management module leader, added: "It was fantastic to have Tobias, a WBS alumnus and now a Managing Director in UBS, deliver such an insightful talk on M&A. We were all very privileged to have the opportunity to listen to him."
Professor Louise Gracia, Associate Dean of the WBS Undergraduate Programme, said: "This year's prize winners and runners-up achieved very high marks and should all be proud of what is a truly outstanding performance.
"It is testament to the talent of these students and a solid indication of the calibre of our undergraduates. We look forward to continuing to challenge our students in ways that enable them to achieve their full potential."
The modules are part of the BSc Accounting & Finance, BSc International Business, BSc International Management and BSc Management courses at WBS.