How do firms attract, retain and develop talent?
29 April 2020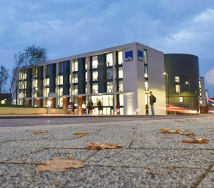 500 global executives shared views on key business challenges
How does staff development link to the strategic vision of organisations
Intense competition for capability retention and skills acquisition
Agility required for new challenges, while disruption drives digital adoption
Attracting, retaining and developing talent is the major priority for companies in 2020, according to a survey of executives by Warwick Business School.
The Executive Education team at Warwick Business School has opened up an industry-led dialogue through a survey focused on individual and organisational learning.
We spoke to executives and those with learning and development responsibility, in order to find out:
What are the key challenges facing business today?
What organisational capabilities are needed to respond effectively?
How does this translate in terms of individual development priorities?
How is the learning eco-system evolving to meet this need?
To what extent is learning and development viewed as a strategic business partner?
Following the responses gathered from more than 500 global executives, the WBS Organisational Learning Report provides a snapshot of where key stakeholders anticipate their development priorities exist, and what significant organisational challenges they face. The importance of access to the latest knowledge to deliver continuous business transformation and adaptation, came through in some clear messages from the findings.
Access and retention of talent
Our respondents put attracting, retaining and developing talent front and centre of the challenges that are most present in their minds. In this, learning and development is critical both as a recruitment tool and to support high potential staff in areas where it is essential to develop new capabilities, such as digital strategy and customer engagement.
The need to attract and retain talent topped the more immediate agenda by a margin, with 72 per cent of respondents selecting this as a key business challenge, 15 per cent higher than any other selection. It is important to note that this jumps even further according to company size, selected by 80 per cent of larger organisations as a major priority.
Strategic agility capability
When executives were asked what capabilities are the priority when thinking about the development of their employees the most significant area identified was developing organisational agility, selected by 61 per cent of our respondents.
This evidence called out an immediate requirement for the next advancement in agility – the need for organisations to build 'strategic agility'.
Companies must challenge how quickly their strategic focus can be adapted, how quickly they can engage with stakeholders and expertise, and how quickly they can move and re-deploy resources. As quoted by our faculty: "Inertia is the enemy of agility – the biggest predictor of where resources will be next year is where they are today."
Digital adoption agenda
As expected digital adoption featured heavily and is now, more than ever, being driven by necessity in practice. Our results revealed a large amount of self-reported development prioritisation for digital leadership, with senior managers ranking it top of their list and high potentials ranking it second.
This however, was not reflected nearly as highly when responses came from L&D staff responsible for identifying priorities for the organisation – it was not in the top three selections for either senior managers or high potentials.
This disconnect could be linked to the finding that more than 80 per cent of respondents expressed the need to understand and adapt to the ever changing digital agenda, however, almost 50 per cent believed that their organisation had not yet developed the right approach to digital strategy.
Ram Gopal, Professor of Information Systems Management at WBS, said: "Among the respondents there seems to be a strong interest in developing their own digital expertise and overall agreement with the need to develop a greater level of comfort with digitalisation."
However this can be challenging to adopt as Professor Gopal says "research has demonstrated that 'culture' is perhaps the biggest obstacle to overcome to realise effective digital strategies, so it is interesting to see that leading cultural change is also identified as an important development priority."
"We undertook this survey to understand if, and how, the learning environment is shifting for organisations," said Tim Wray, Director of Executive Education at Warwick Business School.
"We know that one of the vital cultural features of an organisation is its capacity to learn and that the 'learning organisation' is more important than ever. Organisations need to learn faster than the pace of change as 'there is no steady state', as one of our respondents put it."
For those respondents that believed in the critical importance of learning and development as the driver of business strategy, it was identified as a central part of the way senior leaders thought and the organisation advanced.
One respondent added: "Investment in learning and development is the single most important weapon available to leadership teams in the modern business environment. It really has to be top of the list for resources."
The WBS Organisational Learning Report is available for download now.
The WBS Executive Education team deliver both open and customised programmes, and can be contacted at execed@wbs.ac.uk