How I became a successful entrepreneur
15 March 2017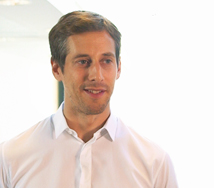 WBS alumnus Neil Hutchinson offers advice on being an entrepreneur
He founded multi-million pound company TrafficBroker in 2004
A successful business model meant he could be self-funded
He has now set up his own personal investment vehicle NEON Adventures
When Neil Hutchinson left Warwick Business School in 2000 with a degree in Management Sciences, he could hardly have imagined the success he would go on to enjoy.
The entrepreneur investor who now owns a number of successful companies started his post-university life as an accountant at the NHS, but soon set his sights on the burgeoning web industry.
"I won an award for a website I designed about reggae music which helped to get me a job as a web designer in London," explains Hutchinson.
But it was the post-design process that sparked Hutchinson's interest more than the design itself – trying to get people to visit the websites. "I started to learn about internet marketing back in 2002, just as Google Adwords was taking off. I realised I was a pretty average designer but slightly better at working out how to drive traffic to a site!"
Around this time, finding himself short of money, he did a Google search for 'how to make money online' and discovered a book called Google Cash about affiliate marketing. "I did this initially in my spare time whilst designing websites," says Hutchinson. "When I started to see the rewards from it, I quit my job and decided to give it a go full-time and that's how I started TrafficBroker back in 2004."
Raising the money to go it alone
"My fund raising options were quite limited, I had a bad credit rating from my time at university," admits Hutchinson. "I approached my former employer and managed to persuade him to lend me a six figure sum at zero per cent equity, but he would take 50 per cent of the profits until I could pay him back.
"Within a year he'd made all his money back, he'd more than doubled his investment but he was a bit sad that he no longer had a stake in the company!" explains Hutchinson.
Having a profitable business model from the early days meant Hutchinson didn't need to raise finance and wasn't accountable to anyone else but himself. This gave him the flexibility to expand beyond internet marketing into different areas of the internet.
"I think that was pivotal to expanding into a portfolio of businesses rather than only having one and focussing on one thing."
Finding time to innovate
Seeing the success his clients were receiving through TrafficBroker and using the marketing and technology expertise he had at his fingertips, Hutchinson decided to change tack.
"I've always liked to use different techniques to get our teams to innovate, grow and move the business forward. We started a small innovation division where I gave four of my best team members the opportunity to launch a product. We had pretty limited success but it helped to encourage an innovative and creative culture."
"We also offered 'innovation leave' to employees which was 20 days, in addition to their annual leave, where they could go away and work on projects. As long as it benefitted the company in some way we were happy for them to do that."
The company found more success later on in buying distressed assets and trying to transform them which organically moved from a single company to a portfolio of companies.
This change of strategy paid off with the acquisition of uSwitch in 2009, the price comparison service and switching website and the Forward Internet Group was born in 2010.
Growth of Forward and birth of NEON
"My natural habitat was never to be the head of such a large organisation and selling uSwitch gave me the opportunity to move away from Forward and do some more personal projects. That was when I set up my own personal investment vehicle – NEON Adventures."
"The idea with NEON was to play in areas that were of interest to me. A blend of having fun, doing well and giving back," says Hutchinson.
NEON Adventures has businesses in finance, property, lifestyle and philanthropy and one of its forthcoming projects is a hotel in Marrakesh which takes a tech approach to the hotel industry. "We want to give four or five USPs based around technology which will help us differentiate our hotel in the market."
Neil Hutchinson received an honorary degree from the University of Warwick in the 2015 Summer Graduation ceremony.