How much does it cost to live in the UK?
26 October 2018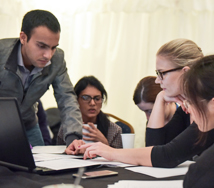 The general rule in the UK is that London is more expensive than any other city or town in the country, with rent on average 2.5 times greater than the rest of the country, according to buy-to-let lender Landbay.
Luckily Warwick Business School has the best of both worlds, with a base at The Shard in London and a campus at Warwick on the outskirts of Coventry.
At Warwick postgraduate and undergraduate students can live on campus or rent privately, with accommodation making up the bulk of the living expenses.
The University of Warwick has more than 6,400 campus rooms available, but also manages more than 400 properties in the local area for students to live off campus, with first year undergraduates guaranteed a place to stay on campus as long as they put Warwick as their first choice, meet the application deadline, and meet the terms of their offer.
Unlike renting privately, students do not have to pay a deposit or bond upfront for an off-campus university property, paying only at the start of each term for the next three months.
The off-campus properties are fully furnished, including a TV, though students will have to buy a TV licence for £150.50, another extra living cost in the UK. Also, the homes don't include cutlery, crockery, a kettle or a toaster.
The on-campus accommodation was recently voted in the country's top 15 among UK universities by StudentCrowd with "excellent feedback for location, value for money and WiFi." The university is busy building a new halls of residence for 2019/20, which will see the addition of studio flats.
How much does it cost to rent for students in the UK?
Living on campus costs between £432 and £544 a month for a single room, while living away from the campus in nearby Coventry, Leamington Spa or Kenilworth will see rents between £300 and £560 for a one-bedroom property. Full-time students are exempt from paying council tax.
As well as rent, there will be food, course books and materials and travel if you live out of campus. The table below gives some estimates of the cost of living while studying at Warwick for a single student over a year.
| | | | |
| --- | --- | --- | --- |
| | Lower estimated costs (2018) | Upper estimated expenditure (2018) | Average estimated costs (2018) |
| Food and toiletries | £2,500 | £4,000 | £3,050 |
| Books and materials | £440 | £600 | £520 |
| Other general expenditure (including clothing, phone calls, laundry, insurance, trips/holidays, entertainment, travel) | £2,550 | £3,000 | £2,775 |
| Total yearly expenditure | £5,490 | £7,600 | £6,345 |
| Total including £525 for warm clothing* | £6,015 | £8,125 | £6,870 |
There is a supermarket on the Warwick campus, but a 10-minute walk away are a Tesco and an Aldi supermarket where prices are generally cheapest for food. A two-litre bottle of skimmed milk at Aldi is £0.96, a loaf of wholemeal bread is £0.49 and a broccoli £0.39, while at Tesco a 1kg bag of basmati rice is £1.60 and 1kg of baking potatoes are £1.10.
The price of a pint of beer - about half a litre - varies across the UK. London is the most expensive at £5.19, with Birmingham - only 30 minutes on a train from Warwick - £4.16, Edinburgh £4.35 and Oxford £4.57. Coventry, meanwhile, has an average price of £3.78, according to MoneyGuru, though Carlisle is cheapest at £2.35.
How much does it cost to eat out for students in the UK?
Of course one of the biggest factors for international students is the exchange rate, and, ever since the UK voted to leave the European Union in June 2016, the pound has fallen against most currencies, hitting a seven-year low against the euro in August 2017, with a euro being worth just £0.91, a long way from when the pound reached €1.42 in 2015.
Eating out in the UK varies in price. A Big Mac meal at McDonald's is £4.29, while a main meal at one of the Warwick campus restaurants, such as Fusion, is around £7, at The Dirty Duck - a pub restaurant - meals are about £6 with a steak meal at £9.50, while a three-course meal at one of Leamington Spa's most popular restaurants, Valles, is £23.50.
Petrol prices can also vary across the country, the highest is 154.9p per litre of petrol while the lowest is 120.7p, with Coventry at the low end at around 126p. The average for the UK is 131.7p according to Confused. com.
Trains to Birmingham cost around £7 for a return at peak rush hour times and £4 to £6 at quieter times in the day, while to London - less than two hours away - prices for a return are from £29.50.
Buses within Coventry, which includes the University of Warwick, are £1 a trip or £2.20 to go further afield. A student bus pass travelcard for the whole of the West Midlands is £41.90 a month.
A London six-zone travelcard is £17 for the day, while a monthly travelcard for zones one to five is £223.50.
Find out more about living expenses when studying at Warwick Business School here.