How Silicon Valley created a start-up obsession
06 April 2016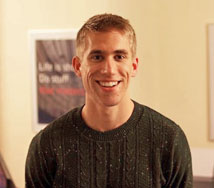 WBS alumnus Stefan van der Fluit grew up in Silicon Valley
His start-up obsession started early with various projects
While at WBS he established Nuklius with Alex Dobinson
They are now developing the platform through various start-up camps
With a range of start-up ventures to his name as a child from dog-walking to helping technophobes with their IT conundrums you might think that for Stefan van der Fluit entrepreneurship runs through his blood.
And you would be right. For Stefan grew up in Silicon Valley, where there is practically a start-up on every street corner, where for many toddlers their first word is not 'mummy' but 'disrupt', where the local crèche comes with an app development course and where incubators are more commonly seen outside of maternity wards.
While in most cities youths hanging around menacingly in hooded tops are looked at with suspicion, in San Francisco's Bay Area they are seen as potential entrepreneurs with venture capitalists pulling up to fund their next big idea.
With Apple creator Steve Jobs as a neighbour and his parents working in the tech industry, at firms including HP and General Electric - setting up FastWorks, GE's implementation of lean start-up in its organisation - Stefan flourished in this febrile atmosphere of creativity, setting up his first company Nafets Solutions - a web development business - at the age of 15.
"Growing up in Silicon Valley definitely played a part; if you are going to school with the kids of the founders of Oracle, doing trick-or-treat at Steve Jobs' house and going to events at Stanford it is bound to rub off on you," says Stefan.
"This, as well as my parents' encouragement and freedom to explore, played a massive role in making me who I am today.
"My parents constantly encouraged me to take risks, act on ideas and fend for myself - none of us van der Fluits got pocket money as they believed the only way you can appreciate the value of money is through earning it yourself."
Stefan moved to the Netherlands as his father, who is Dutch, wanted Stefan to spend some time growing up in the country of his birth… but the spirit of Silicon Valley lived on within him and his addiction to developing new ventures carried on.
"I have always had a massive passion for technology, as well as a love for making things," says Stefan. "Then there is the process of taking a concept through the various development cycles into market, I find it is an absolutely thrilling experience – one I can't get enough of.
"Being able to add value to others' lives in some way, for me, is a huge motivating factor, and being able to have the freedom to choose where to add value is extremely important; as it has to be something I believe in in order for me to be able to deliver. I only really excel in something when my heart and soul is in it."
Incredible community
This passion for entrepreneurship was further nurtured at Warwick Business School, where he gained a BSc Management degree, and just as importantly met his "partner in crime" Alex Dobinson.
"I think one thing many people take for granted is the incredible community of gifted, motivated and extremely smart people Warwick attracts, year after year," says Stefan.
"Having been able to be a part of that community, have that campus experience and meet people with very similar passions and interests whom you can do incredible things with in societies, start-ups, hackathons, and the like, was an absolute pleasure and honour."
Stefan picked up the Outstanding Student Contribution Award (OSCA) during his time at WBS, thanks to his business acumen and website Unibubble, a tool to help students discover everything going on at the University and freely advertise anything they want. It attracted 1,625 registered users in just nine days.
After that he moved on to Nuklius, a talent-mapping app, helping entrepreneurs with ideas find and build their start-up teams.
"I got the idea for Nuklius in early 2014," says Stefan.
"I was sharing my past Unibubble experiences with a room full of students when one of them asked me how I met Alex; my technical co-founder. It hit me there and then, that one of the biggest reasons people don't pursue their ideas is simply because they haven't got all the skills to do so."
Nuklius was a free service provided for the start-up community as both Stefan and Alex were still finishing their last year at Warwick.
But after graduating and going full-time Stefan and his team really had to make decisions for the business which also involved monetisation.
Culture of agile and collaborate working
"We had conversations with corporates around using Nuklius internally to help them connect people to innovation projects," says Stefan. "I spent a year at Intel where I saw this issue as well, that of finding the right people and expertise in a large organisation – an absolute pain! – so we decided to pursue this opportunity."
There is a growing trend in lots of industries now, suggests Stefan, of start-ups disrupting very established players: Airbnb and the hotel industry, Spotify and the music industry, Uber and the taxi industry to name but a few.
"Corporates are starting to feel the pressure and are looking for ways to react," says Stefan. "One of the reasons why start-ups are able to do what they do is because they have a default culture of agile and collaborative working.
"Corporates, who tend to be very siloed, do not. They also suffer from something we call the network dilemma. Simply put, with size comes complexity.
"As a network grows it becomes increasingly difficult to keep track of who is in it and, more importantly, to track the fluid nature of people's skills and expertise. This makes it hard to create a truly collaborative work environment.
"This is where we see our technology can change things. Our software facilitates knowledge transfer across the organisation by simplifying the way employees connect with colleagues and expertise."
Nuklius is now about to head into the Startupbootcamp Smart City&Living cohort in Amsterdam and after landing some very big corporates, including market leading banks in Germany and the Netherlands, Stefan is now on the lookout for individuals who can help develop the next version of Nuklius.
"To help us grow and be the awesome company we want to be we always need to be on the lookout for amazing talent and people such as those we met and studied alongside at Warwick," he says.
"While in this case it is the engineering team in need of software engineers, we'd love to hear from anyone interested in contributing something and being part of a job radically different than your regular nine-to-five corporate gig."
Read more about the BSc Management course here