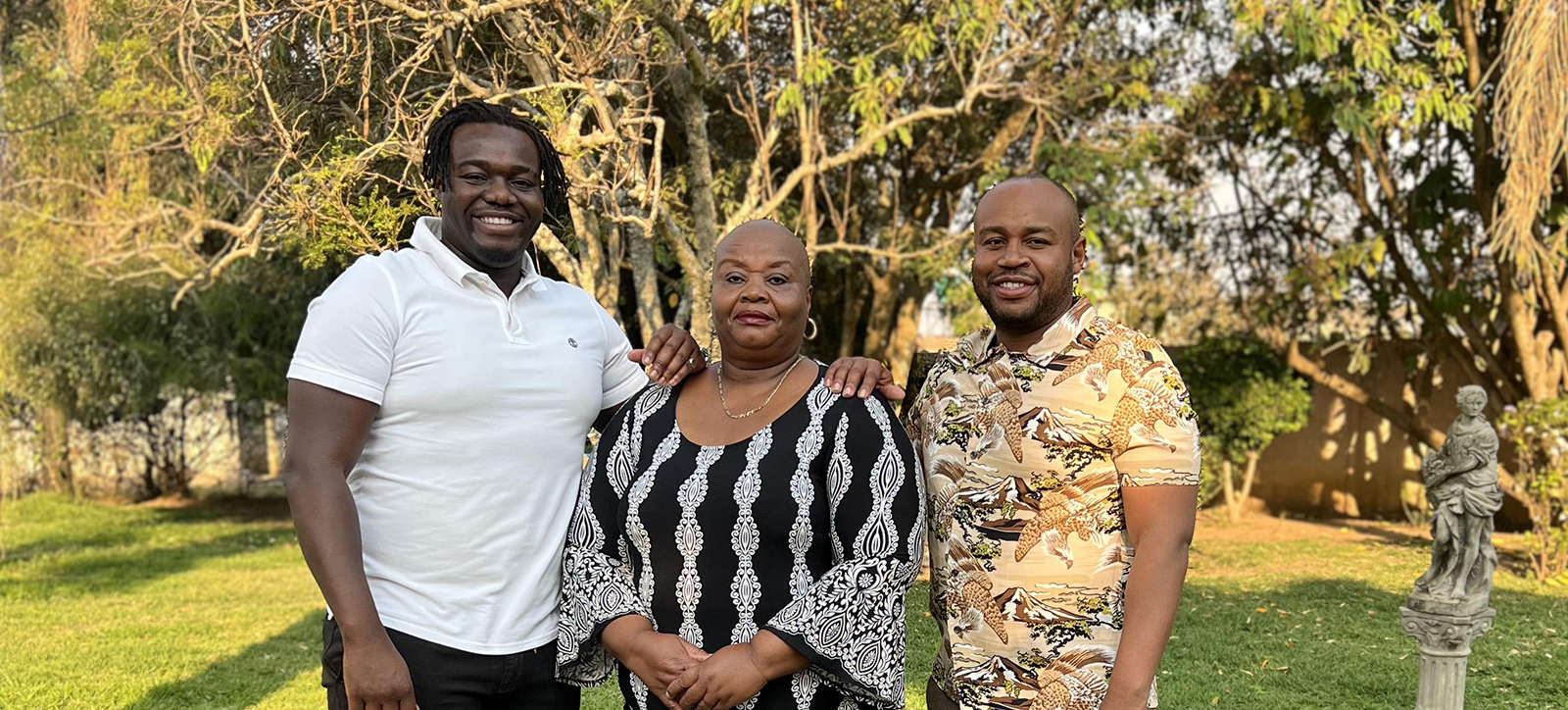 Rugare (centre), and her sons Tanny (left) and Taffy (right) each took different Warwick Executive Diplomas
Three Warwick alumni from one family will fly into London next month to receive their Executive Diplomas.
Rugare Sango-Moyo, and her sons Tafadzwa (Taffy) and Tanyaradzwa (Tanny), each took separate Executive Diplomas at Warwick Business School in the 2021-22 academic year so that they could take different areas of learning back home to their family business in Harare, the capital of Zimbabwe.
Reflecting on the decision, Rugare, 56, says that after more than two decades in the business that she started with her husband it was "time to go back to school".
The husband-and-wife team started off with a restaurant and a coffee shop in the early 2000s, but with the business now rapidly diversifying into other areas with the involvement of her two sons, and with continuing economic and political uncertainty in Zimbabwe too, it was time to gain more knowledge in tackling the "operational issues that come with running a business".
"Besides," she says, "I felt I wanted to fuse everything that I have encountered in my life, not only from my experience in the family business, but also from my years as a broadcaster with the Zimbabwe Broadcasting Corporation beforehand.
"I thought educational qualifications would be a good way of doing that."
Executive Diploma in Strategic Leadership
So it has proved. Studying for the Warwick Executive Diploma in Strategic Leadership (now combined with the Executive Diploma in Organisational Change to become the Warwick Executive Diploma in Strategic Leadership & Change), Rugare was particularly struck by the personal coaching on offer.
"I have changed as a result," she says. "The 1-2-1 executive coaching sessions helped me to improve on those areas that were traditionally my weaknesses."
The psychometric test included as part of the programme highlighted her tendency to be a perfectionist, which has often been a source of stress in her working life. "I love planning and organising, but after taking the Executive Diploma I'm much better at dealing with my stress levels if things don't go the way I want them to go."
Sunlight pierces the slatted windows behind them as the family talk to Warwick Business School on a video call from Zimbabwe. "Mum is much easier to work with now!" Taffy, 35, chuckles, though he is quick to concede that she is "still very much the leader".
Nevertheless, the business has become much more of a collegiate ecosystem in recent years as it branches out into new markets.
A course to learn how to lead digital transformation
Taffy has been responsible for the telecoms side of the business for more than a decade now, with the family firm of Proucher Management Consultants entering into a strategic partnership with Riverbird Technology Partners, of South Africa, to act as consultants on telecommunications infrastructure. This includes fibre optics both for Fibre to the Home (FTTH) and Wireless to the Home (WTTx) for telecom providers operating in Zimbabwe and the wider region.
The digital transformation side of his work includes digital infrastructure, operations, and services and customer engagement, delivered through the Software as a Service (SaaS) model. This involves Customer Relationship Management (CRM) and billing systems.
More recently, he has been leading the charge into the insurance market, acting as agent for a major insurer in Zimbabwe. Insurance products such as the Emergency Evacuation Fund for both local and international tourists visiting the Victoria Falls in the north of the country is a particular growth area at the moment, with plans on strategically exploring and exploiting future insurance products for web 3.0.
"It's booming," Taffy says, "People not only want to see the Falls, but they also want to go on Safari and go white water rafting as well as bungee jumping off the Victoria Falls Bridge into the mighty Zambezi. Obviously, they need insurance."
With this focus on the finance arena, Taffy decided to study for the Warwick Executive Diploma in Digital Leadership. He describes the modules on Platform Strategy and Business Analytics for Executives as "eye-opening" and is now using what he learnt to build a fintech platform for the family firm.
"Right now, I feel that I've got the best cutting-edge knowledge. The Digital Leadership course really changed my perspective on the business world."
Why learning strategy and innovation is vital for business
His brother, Tanny, 30, feels the same way after studying for the Warwick Executive Diploma in Strategy & Innovation. "When you're here you tend to think everything is about Zimbabwe's economic problems, but the course opened up my mind and helped me think outside the box."
Thinking outside the box has meant thinking much more strategically about the construction side of the family business. With the company involved in building townhouse and apartment developments, there is constant pressure to source raw materials at the best price. The Diploma gave Tanny the confidence to make better strategic choices; for instance, sourcing some of the bricks for the construction work from China to speed up the work.
Had he not studied at Warwick Business School, he feels, he would not have developed the rigorous approach he needed for effective decision-making.
"I now appreciate that there is a world outside Zimbabwe ready to trade with us," he says.
How an alumni network can help a business
Business executives from all over that world will be flying in for the Executive Diploma celebration event at WBS London, The Shard on September 21.
The cohort network is one of the great strengths of the Warwick Executive Diploma programme, the family say.
"Not only did I learn from the expert knowledge of the Warwick Business School lecturers, but I also learnt from the experience of other students coming from different parts of the globe," says Rugare.
"I've kept in contact with many of my fellow students ever since I first met them in London on the modules," says Taffy. "I'm looking forward to meeting up with them again in September."
Tanny adds: "I think the Warwick Executive Diploma was a watershed moment for us all. That experience is now flowing into our business.
"Beyond the September celebration event, I think 2024 is going to be a good year because of our experience at Warwick Business School."
Warwick Business School has five Executive Diplomas on offer in the 2023-24 academic year. They are one-year courses with face-to-face teaching delivered in four modules, each over four days at WBS London. They can also be studied at a participant's own pace under the Warwick Leadership Pathways framework.