Hundreds of finance alumni gather at JP Morgan
07 September 2017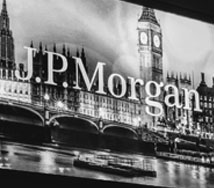 More than 200 people attend summer social at JP Morgan's London office
Maheen Rahman, one of Fortune's 40 under 40, reveals her battle to the top
Organised by University's biggest alumni group Warwick Finance Network
Professor James Hayton talks on Warwick Business School's 50-year journey
Hundreds of Warwick Business School alumni gathered for a summer social and a night of networking at JP Morgan's Victoria Embankment office.
Organised by the Warwick Finance Network, the evening saw speeches from Jonathon Griggs, senior leader at JP Morgan, WBS alumna Maheen Rahman, CEO at one of Pakistan's leading investment banks AlfalahGHP Asset Management and included in Fortune's top 40 under 40 lists, plus James Hayton, Professor of Entrepreneurship & Innovation.
Xiaotong Yang, a full-time MBA graduate now working at JP Morgan opened the evening and said: "It was a wonderful night with three prestigious speakers entertaining a crowd of more than 200 people.
"Jonathon shared the history behind the century-old building and his own vibrant career development since his graduation from the University of Warwick.
"Professor Hayton praised the common heritage with the University and the 50-year journey of WBS, while Maheen Rahman, a successful fund manager, told the crowd her amazing journey doing business in Pakistan and making it to be one of the top female executives."
Ms Rahman has not only been breaking ceilings in Pakistan as the only woman to head an asset management company in the country, but her IGI Stock Fund has given investors a 443 per cent return since it began seven years ago. That's 117 points more than the benchmark index and the highest gain among 34 peers tracked by Bloomberg.
She once told Bloomberg: "My biggest challenge has been building a reputation and trust in a market that values grey hair and being male. After all these years, I still routinely get asked why I don't just design clothes."
Warwick Finance Network is one of the most successful professional networks at the University of Warwick, hosting a global community of more than 3,000 members.
Through its monthly events at the WBS London at The Shard, the network forges a strong community where its members learn, grow and share with each other.
Mr Griggs added: "JP Morgan Asset Management was very honoured to host what turned out to be a highly energetic and well attended event in the old school buildings at 60 Victoria Embankment.
"These events continue to reveal the enormous breadth and diversity of talent coming through from the business school and its strong links to the City."
Full-time MBA student Andrew Peng said: "WBS networking events beautifully unite, strengthen and expand the WBS student and alumni community."