In memoriam: William Bargate
09 October 2020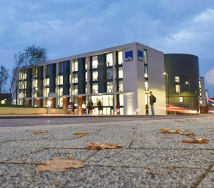 We are deeply saddened to confirm that William Bargate, an undergraduate student at Warwick Business School, passed away recently.
Reflecting on the sad news William's personal tutor, Dr Rachel Dickinson, said: "William was one of life's gentle souls and will be sadly missed by faculty and students alike.
"He leaves a significant impression on those who were fortunate enough to know him."
If you would like support, please visit the Wellbeing Support Service web pages.
Students can access support via the the Wellbeing portal or on 024 76 575570, ext. 75570.
Staff can access support via the Staff Wellbeing Hub and the Employee Assistance Programme.
The Chaplaincy are also able to provide bereavement support to those of any faith who may be affected by the sad news.