Indian MBAs visit WBS to study business in Europe
26 November 2014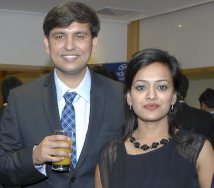 Warwick Business School played host to a number of delegates from the prestigious Indian Institute of Management, Ahmedabad.
In total, 31 delegates arrived at Warwick Business School to undertake an intensive two-week period of study as part of the international immersion element of their course, the Postgraduate Programme for Executives, a one year full-time Executive MBA.
The over-arching aim of the module is to give a solid understanding of business in Europe and the challenges facing British businesses. This is the sixth year IIM-A delegates have visited WBS.
WBS prepared a bespoke module for the group comprising eight days of lectures, cases and group discussion and assessment, where leading WBS academics delivered intensive sessions on a range of subjects, plus two days of company visits.
IIM-A delegate Subhadip Banerjee said: "Warwick Business School hosted our group with warmth and grace throughout our trip. We spent a lecture-packed two weeks on the programme. We were amazed by the quality of professors that took our classes. Our first interaction was with WBS Principal Teaching Fellow Nigel Pye, of the Operations Management Group, who discussed the nuances of supply chain management. The interesting exercise of finding where the bicycle Nigel has originated from will stick in our minds for a long, long time.
"The understanding of macro-economics of the UK was very clearly explained by Dr Ben Knight in his lecture. WBS Professor of Practice David Elmes delivered a gripping class on the much talked about, but less understood, subject of strategic decision making. We spent a lot of time with other academics covering a number of issues involving post-strategy and how global business is done, while Professor Jacky Swan broke most of our myths and pre-conceptions about organisational behaviour and made us realise that it is not merely around common sense, but so much more than that.
"As part of our visit we also went on industry visits to companies such as Unipart Logistics, Compton Verney House, DCS Group (UK) Ltd and Delphi Lockheed Automotive Ltd. We also thank the management of these companies for hosting us. These visits added to our learning and understanding of business in the UK."
Warwick Business School MBA students will be making a return visit to IIM-A in February as part of their module Doing Business in India.
WBS deputy dean Andy Lockett said: "It was wonderful to welcome the students from the Indian Institute of Management in Ahmedabad. We really value the relationship we have with IIM-A and we hope they were able to take away an experience that they can reflect on as they continue their studies and take into their careers.
"This relationship adds to the diversity and international experience of students at both institutions, something that is increasingly important in the globalised nature of the business world."