International Masters students handed visa boost
17 January 2018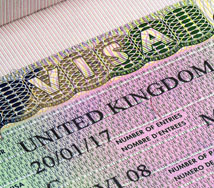 International Masters students given a boost with visa applications
New streamlined process to ease application for overseas candidates
Pilot scheme also adds an extra two months to search for work in UK
Warwick one of 23 universities trusted to use new visa scheme
International students applying to do a year-long Masters will be able to use a new streamlined visa application process and gain an extra two months to find a job in the UK thanks to a new trial.
The Government trial allows students applying to Warwick Business School from outside the European Union to submit fewer documents and gives them six months instead of four from the end of their course to stay in the UK, which will help those looking to for work in the country.
The University of Warwick has joined 22 other universities in a Government pilot for institutions that are considered to be low-risk, where the visa refusal rates are consistently the lowest in their area or region – Warwick's was 0.93 per cent for 2016/17
Karen Barker, Director of Recruitment and Marketing, said: "This is great news for our international students and an indication from the UK Government that the country is actively looking to attract them.
"Our international students play a vital part in creating a diverse cohort, which enriches our students' experience as they meet different cultures and create networks across the world.
"We welcome students from all over the world and this will help their concerns around visas."
The UK is the second most popular destination in the world for international students and the number coming to study has increased by 24 per cent since 2010, according to the Government.
Who is Eligible?
The Tier 4 pilot covers full-time Masters courses of up to 13 months in length, though undergraduate and postgraduate research offer holders will not benefit from this.
International students are included in the pilot if they are applying from overseas or from within the UK following successful completion of an undergraduate or previous postgraduate degree.
Family or partners who are making a Tier 4 dependant visa application at the same time as an eligible main applicant are also included.
What are the benefits?
As well as having an extra two months at the end of the course to stay in the UK and look for work, the Tier 4 pilot will give students far easier visa application procedures; unlike normal Tier 4 students, pilot students are exempt from having to present the following forms of documents:
Maintenance – documentary evidence of funds for maintenance for up to nine months, held in account for 28 days.
English Language – degree level and above students must speak English at level B2.
Previous Qualifications - qualification or award certificate from previous study to be submitted.
For more information on the Tier 4 pilot click here.