International trip reveals new opportunities for MBAs
14 November 2014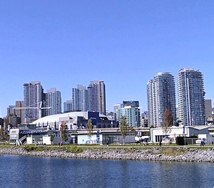 In today's business climate, MBA students need to be able to operate in any business context, anywhere in the world.

Warwick Business School has piloted its first compulsory international study trip which saw all full-time MBA students travel to Vancouver on an all-expenses paid trip to immerse themselves in a new business culture.
The aim of the visit was for participants to compare macroeconomic challenges across UK and Canadian economies with a focus on the issues and opportunities presented from national, provincial, Pacific Rim, and Asian Gateway perspectives.
Assistant Dean for Generalist Masters programmes, Sotirios Paroutis said: "Many MBA courses offer optional international study tours, but at Warwick the international element is seen as an essential experience for participants and is represented in a core module.
"As well as thinking about global business issues, participants looked at the key themes of sustainability, social enterprise business models and globalisation. The trip also offered opportunities for networking with alumni and corporate contacts."
Rachel Mosier, a student on the Warwick MBA by full-time study, found the trip to be a real eye-opener. Currently working as a social media marketing consultant to expand the global perspective of a small UK luxury distributor, the lessons gained in Vancouver about the opportunities and challenges with international business have proved very useful and necessary to her role.
"The opportunity to visit Vancouver was definitely a big perk of the Warwick MBA programme," Ms Mosier said. "It helped me to see business from another perspective. I started thinking about the business problems and challenges in other cultures; how they manage people, sustainability issues, the effect of different cultures, heritage and traditions; and the way a country is governed.
"WBS is ahead of other programmes in this regard. The international study trip isn't why I came here but it certainly got my attention when I was comparing courses."
The trip was in conjunction with Sauder Business School who organised a series of lectures on the Canadian economy and business culture from academics and business leaders from companies like oil company Chevron and investment bank TD Securities. There were also visits to businesses like spy satellite firm MDA, Endurance Windpower, Vancouver Airport and the Centre for Interactive research on Sustainability & Bioenergy Research and Demonstration facility.
For MBA student, Oliver Weeks, the Vancouver trip provided an opportunity to make valuable connections and explore new areas of interest in the business world.
"In the mornings we attended themed lectures based around the main sectors of British Columbian economy from
leading academics at Sauder Business School," said Mr Weeks.
"We were also given the opportunity to attend panel sessions with sector experts including a group of entrepreneurs from Vancouver. One of the business owners I met at this session agreed to help me explore job opportunities in Vancouver.
"The head of the Sauder business careers team has helped me directly explore employment in Vancouver as I have Canadian Permanent residency.
"That's why the trip was so worthwhile – we were essentially being introduced to some of the best contacts in the city. It was really interesting to spend time with these people and let them inspire us as MBA students to think about business in different cultures.
"Having completed the course with a distinction, post MBA several of the Sauder Business School contacts have been helping me with my continuing job search."
Three of our MBAs identified potential consultancy project opportunities by networking with contacts established during the visit. Current students on the Warwick MBA by full-time study will take the trip to Vancouver as part of one of their core modules, Leadership Plus – a new module lead by Professor of Practice Bob Thomson.
Watch this film to hear from more students about this year's trip to Vancouver: