Join us in celebrating 450 years of Shakespeare
02 September 2014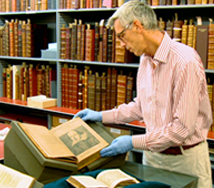 This year marks the 450th anniversary of William Shakespeare's birth and the University of Warwick is marking this with the running of its Bard themed free online course, Shakespeare and his World.
Renowned Shakespearean academic, Jonathan Bate, a Fellow of Creativity at Warwick Business School, will lead the Massive Open Online Course (MOOC) in conjunction with the Shakespeare Birthplace Trust.
Professor Bate said: "This is a MOOC for everyone with a love or interest in Shakespeare. Whether you're a newcomer to him, or know all his plays inside out, you'll find something in this course perfect for you."
The first course in March 2014 proved immensely popular with more than 11,000 people registering from across the globe to participate in the classes.
The course is spread over 10 weeks, and starts on September 29. It is completely free to register for.
Each week participants will spend around five hours studying a particular play. Students can expect to learn about Shakespeare and his environment, before looking at broader topics and a cultural theme via the means of a number of video segments.
The only requirement is having an interest in Shakespeare and a willingness to read and watch the plays mentioned during the course.
Professor Bate added: "This MOOC gives students the perfect opportunity to delve into the vaults and discover artefacts, whether it be a map, sword, or piece of literature, to really bring to life the material culture of Shakespeare's time and textures of his plays.
"This can all be done in a fantastically flexible way, and will really help students learn so much more about the man behind the plays."
All of the participants who complete the MOOC will be able to purchase a Statement of Participation certificate for a small fee on the FutureLearn website.
One student said: "I've recommended this course to everyone I meet. Totally marvellous, utterly enriching, and a brilliant start to understanding Shakespeare in the future."
Click here to visit the FutureLearn website now and register your interest today.