Jonothan Neelands talks at KPMG event in Hong Kong
13 July 2016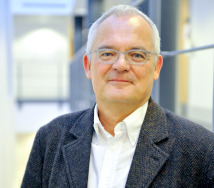 WBS Professor tells Hong Kong crowd of importance of creative industry (CI)
Professor Neelands argued governments need to invest in CI at KPMG event
He warned of competition in job market as well as risk of automation
Business leaders and alumni attended event organised by WBS alumni
Jonothan Neelands, Professor of Creative Education, told Hong Kong business leaders and WBS alumni how private and public investment in the Creative Industries (CI) can boost a country's economy in a global age of creativity.
He suggested that Intellectual Property is the new oil yielding significant sources of profit and productivity.
Shanghai and Hong Kong are competing with London to be global leaders in creative industries, using the phenomenal growth and prosperity of the CI in the UK as a bench mark.
The CI require highly educated talent and currently 41.90% of Londoners are educated to degree level, of which 12 per cent are in creative industry (CI) employment. In Hong Kong, only 27 per cent are educated to degree level and only 5.5 per cent are in CI employment.
Shanghai sits somewhere in the middle, with 42.9 per cent of population educated to degree level and 7.4 per cent in CI employment. Shanghai is also making significant public investment in becoming a world city of culture.
Professor Neelands, who is also Associate Dean for Creativity at WBS, said: "There is a very clear economic argument for why governments should invest, nurture and support the creative industries, not just the highly successful ones, but also the cultural ones like galleries and museums that feed talent, ideas and technical know-how into the successes.
"The creative industries will tend to flourish in urban spaces where there is a rich interplay between arts, culture and clusters of talent working together. Urban spaces are also more likely to have the levels of tolerance, diversity and technology required to foster creativity.
"But culture also makes these cities more attractive places to live, to visit, to invest as well as for globally-minded mobile talent."
At the conference hosted by KPMG Professor Neelands said governments should invest in the creative sector through funding R&D, developing the cultural infrastructure, promoting diversity and ensuring that there is a more creative education policy in place.
"Bringing different minds, histories, strengths, backgrounds together is more likely to lead to new thinking and ideas!" adds Professor Neelands. "Different people see things differently and together are more likely to produce new ways of making and doing things."
There should also be talent pipelines, access to finance and entrepreneurial spirit and know-how according to Professor Neelands.
This is because he sees the job market as becoming increasingly competitive and prone to automation in the next 20 years, especially in sectors such as accounting and banking – a stern warning for a city such as Hong Kong with such a focus on those very fields.
"We are going to become a society of freelancers and SMEs and all our children must have the ambition and portfolios and skills and the desire to be a job-maker rather than a job-seeker," added Professor Neelands, who was a member of the Warwick Commission that examined the value of culture in the UK in its report Enriching Britain: Culture, Creativity and Growth.
"My belief – and experience – is that creativity lies at the heart of business. Time and time again, creativity unlocks and reconfigures the social and economic building blocks of a new era.
"There is here a close link between artistic and entrepreneurial creative agents - both seek in different ways to 'disturb the equilibrium'. Artists 'disturb the equilibrium' by challenging orthodoxies and aspiring to represent a new and different world. Creative agents introduce disruptive technologies and exploit the commercial potential of their Intellectual Property
"Creativity is the opposite of cynicism. That's why I believe creativity is a business and social imperative for the 21st century."