Learn how to interpret digital traces on Big Data MOOC
26 February 2015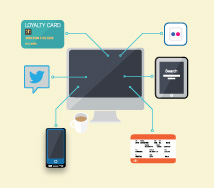 A new MOOC offered by Warwick Business School will offer insight into how to get to grips with the volumes of "digital traces" we are all now leaving behind us.
The course, Big Data: Measuring and Predicting Human Behaviour, is being run by big data experts Suzy Moat, Assistant Professor of Behavioural Science and Tobias Preis, Associate Professor of Behavioural Science & Finance.
From buying a loaf of bread, to using an Oyster card, big data is being generated by many of our everyday actions. Across areas as diverse as economics, crime and health, these new datasets offer new opportunities to help us understand human behaviour.
As Dr Preis explains: "Our smartphones and our computers have become a central part of our everyday lives.
"Every time we pick up the phone or search for something on Google, we leave behind data describing who we're talking to, what information we're looking for, and much more."
Dr Moat added: "We've put this course together to help people understand the kinds of data our everyday actions are now generating.
"Crucially, we'll be talking about how these new datasets can help us better measure how people behave, and possibly even predict what they will do in the future."
Participants will spend four hours a week learning about how big data is being used in the world today, as well as picking up some basic practical skills for mining data on online behaviour, in the freely available and widely used programming language, R.
"We have introductory sessions on the value of big data in understanding behaviour across domains such as economics and health, guest lectures from a range of top scientists in this field, and a course for complete beginners on how to find out what people are searching for on Google and Wikipedia.
"The course is open to anyone at all, and we're really looking forward to getting it off the ground,"adds Dr Moat.
The course is free of charge and starts on April 20. It lasts for nine weeks in total. Register for the course on the FutureLearn website here.
Use the hashtag #FLbigdata to join and contribute to social media conversations about this course.
Dr Tobias Preis and Dr Suzy Moat both teach Big Data Analytics on the MSc Finance and MSc Business courses.
Both also teach the Behavioural Sciences for the Manager module on the Executive MBA.