Learning and networking with top executives at WBS
26 June 2014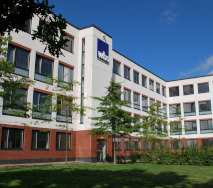 Learning from executives across different sectors is one of the biggest draws for those in the Warwick Executive Network according to Birmingham Airport Human Resources Manager David Onion.
In the fast-moving world of business, managers are constantly coming up against new challenges and being part of the Warwick Executive Network has allowed managers from Birmingham Airport to positively engage with individuals from many different types of organisation, discussing best practice and what actually works within the businesses .
"Birmingham Airport maintains a strong talent management programme for our managers, identifying future leaders and those in roles that are strategically important to our organisation," said David.
"The Warwick Business School Executive Network sessions are a key part of this talent management and development programme. They enable our managers to learn about and engage in discussions about key issues for the organisation.
"Our business exists in a fast-moving and continually changing environment and it is important that our managers have the skills to constantly deliver. Some of the sessions that have been delivered by Warwick Business School are directly relevant to our strategic goals, such as dealing with organisational change, putting strategy into action and understanding and managing organisational politics."
The Network was set up by Warwick Business School to help organisations develop their staff and get answers to business challenges. The programme consists of six masterclasses per year and also provides members with the opportunity to discuss business challenges and best practice with non-competitor executives.
David said: "An important element of the sessions is the ability to network with colleagues both within Birmingham Airport and from other businesses across the region to discuss and share best practice and to learn from each other.
"A key strategic aim of our business is to ensure we are all working across our business, building relationships at all levels and avoiding the 'silo mentality'. The networking opportunities with Warwick Business School help participants to achieve this and many internal relationships are enhanced by mutual attendance at the Executive Network."
The masterclasses are bespoke to the needs of the members of the network who set the agenda for each session in conjunction with WBS faculty. Past subjects have included:
• The Psychology of Strategic Management
• Understanding and Managing Organisational Politics
• Performance Management Systems – Putting Strategy into Action
• Measuring and Improving Performance
• Leveraging Human Resources for Sustained Performance, Innovation and Growth
• Century Champions
• How to become more efficient and innovative – A Performance Management Perspective
• Understanding and dealing with emotional reactions in organizational change
The next masterclass 'The Art of Judgment' will take place on July 11 and will be presented by Hari Tsoukas, Professor of Organisation Studies; Phyllida Hancock, Principal Teaching Fellow in WBS Create; and Programme Director Aileen Thomson. To register your interest email Husnara.Begum@wbs.ac.uk or call +44(0)24 765 28196.
More information on Warwick Executive Network is available here.