Lloyds reveal UK retail banking in a state of flux
29 October 2014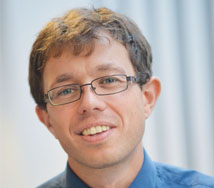 John Thanassoulis, Professor of Financial Economics, told Sky News Lloyds Banking Group's new digital strategy could ultimately lead to a more competitive UK retail banking sector.
The free-to-use 'current account switch service' along with the introduction of a new breed of challenger banks, peer-to-peer lending banks, plus the introduction of the UK's first online-only lender next year is leading to a huge shake up of the industry.
With many banks still reeling from the financial crisis and the litany of fines, Lloyds' new CEO António Horta-Osório set out a clear new strategy for the bank, which is 25 per cent owned by the UK Government.
Professor Thanassoulis believes investors will appreciate Horta-Osório's new vision as it is in line with trends in the industry, but argues there is still plenty of life left in the branch and scaling this down could lead to opportunities for competitors.
"This does signal a clear vision from Horta-Osório to focus on mobile banking and to make sure Lloyds' cost base is rationalised and stays competitive," said Professor Thanassoulis on Sky News.
"But it will also mean greater competition in retail current accounts as those customers who want the comfort of a branch might now feel the push to move to a new bank like Virgin Money. Also, many of the branches could end up in the hands of other banks. In the long run this will be good for the UK and the consumer. The increase in competition will drive up standards of retail banking."
Lloyds will close 200 branches, about six per cent of its total, and cull about 9,000 jobs, as part of a drive to reduce costs. It will also open 50 new branches as part of its shift towards a digital model. Those branches remaining open will house automatic deposit boxes, possibly iPads and likely fewer staff, as it looks to invest £1.6 billion in digital services and increased automation.
The UK's biggest retail bank has been unable to close any of its 2,253 branches for three years as a result of its takeover of the ailing HBOS and its agreement with the UK Government to keep branches open when they are the last in town. This deal concludes at the end of the year, though Business Secretary Vince Cable has called for all banks to keep the last branch in a town open until the Post Office network is able to takeover.
"Retail banking is in a state of flux at the moment," said Professor Thanassoulis. "Online banking helps for many things, with more and more people using their mobile to do their banking. By cutting the branch network Lloyds is hoping to encourage more people to pay bills online, and deposit into the boxes rather than cashiers. But there are many customers, plus charities and small businesses that need a branch to deposit cash and cheques.
"In times of crisis, such as Northern Rock, online only customers were very worried and so a branch network is a major asset. Also, older and sometimes wealthier people like to use a branch and are less comfortable using online banking.
"This is obviously very bad news for those staff affected and I am surprised by the scale of the job cuts, 9,000 represents 10 per cent of Lloyds' workforce."
Lloyds saw pre-tax profits rise to £751 million, compared to a £440 million loss last year, but has set aside another £900 million for anticipated pay-outs for mis-selling payment protection insurance.
"The big shock for Lloyds is the size of the PPI mis-selling, which has now reached over £11 billion for the bank," said Professor Thanassoulis. "This is symptomatic of a deeper malaise in banking culture, when staff were under huge pressure to make money quickly through mis-placed incentives.
"This is hopefully now being eradicated with the new regulations from the PRA where banks have to report the payment structure of senior management to them, and payments must include substantial deferred components and the ability to clawback bonuses.
"We could well have reached the bottom of this scandal and so Lloyds and investors can now look ahead to higher margin banking in the future."
Listen to Professor Thanassoulis on BBC Radio FiveLive. He is on after four minutes.
Professor John Thanassoulis teaches Corporate Finance on the Warwick Executive MBA and Microeconomics on the MSc Finance. The MSc Finance can now be done part-time at The Shard in London.