Luxury & Innovation Hub Launch: Relive it here
28 June 2016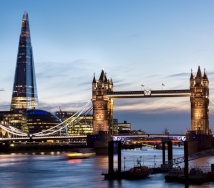 The Warwick Luxury & Innovation Hub was launched at WBS London at The Shard, follow what happened in our blog.
Qing Wang, Professor of Marketing & Innovation at Warwick Business School, and Giorgio Riello, Professor of Global History and Culture and Director of the Institute of Advanced Study at the University of Warwick, have co-founded the hub to promote evidence-based debate and generate new insights on the important interface between luxury and innovation, while also providing a meeting point for academia and industry.
The event concluded with the launch of the book Luxury: A Rich History authored by Professor Riello and Peter McNeill, Professor of Design History at the University of Technology Sydney, in association with Oxford University Press.
The schedule was:
2.30pm: Qing Wang, Professor of Marketing and Innovation, opens the hub
2.45pm: Keynote Speakers - Nicole Wang, Director, Ogilvy Public Relations Worldwide
- Karin Haferkorn, Public Relations & Social Media Director, Maserati
4pm: Panel - Steve Aldridge, Executive Creative Director and Chairman, Partners Andrew Aldridge
- Karin Haferkorn, Public Relations & Social Media Director, Maserati
- Peter McNeill, Professor of Design History, University of Technology Sydney
- Simon Petherick, Managing Director, The House of Britannia
- Giorgio Riello, Professor of History | Director, Warwick Institute of Advanced Study
- Paurav Shukla, Professor of Luxury Brand Marketing, Glasgow Caledonian University
- Qing Wang, Professor of Marketing and Innovation, Warwick Business School
5pm: Luxury: A Rich History book launch