Maja Korica makes Thinkers50 Radar 2017 list
15 February 2017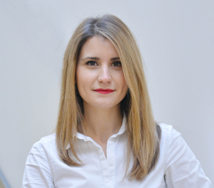 WBS academic named on Thinkers50 Radar list 2017
Maja Korica follows in footsteps of Chengwei Liu, listed in 2016
Radar list is of 30 thinkers most likely to shape future organisational thinking
More women than men made the list for the first time this year
A Warwick Business School academic has been named on the highly regarded Thinkers50 Radar list.
Maja Korica, an Associate Professor at Warwick Business School, has made the 2017 list of 30 management thinkers most likely to shape the future of how organisations are managed and led.
Dr Korica is the latest WBS academic to make the Thinkers50 Radar, with fellow WBS academic Chengwei Liu making the list last year.
The Thinkers50 Radar recognises the talent of up-and-coming management gurus. The 2015 overall list winner was Michael Porter, of Harvard Business School, with previous winners including Clay Christensen, and Peter Drucker.
"The Radar list is keenly anticipated," said Thinkers50 co-founder Des Dearlove. "It is an early warning system to alert managers about the people who are doing exciting and important work. We hope to see many of them on future Thinkers50 rankings of the world's leading management thinkers."
In 2017, for the first time, the highly international Radar includes more women than men, with the number of women thinkers increasing rapidly over recent years.
For the Thinkers50 Radar list founders, another key feature this year has been the shift in focus.
"When we started the Thinkers50 in 2001 the emphasis was on improving corporate performance and profitability," added Thinkers50 co-founder, Stuart Crainer. "The next generation of thinkers wants to make the world a better place. We are optimistic that their ideas will indeed make a difference."
Dr Korica's work strongly echoes this. Her current research investigates how chief executives in complex systems, like healthcare, manage their organisations, given growing regulatory and public interest.
In addition, she is studying how coordination is accomplished on the ground in emergency refugee situations, as another challenging setting to look to in answering how to manage in an increasingly complex world. Finally, she is developing a body of work on critical thinking as central to management education, and to smarter management.
Dr Korica said: "This inclusion is an honour, especially because on the list are others for whom doing things right and doing the right things go hand in hand.
"For me, everyday management is not boring – it is elemental, especially given the scale of problems faced today. My passion is to show managing in a dynamic and nuanced light, drawing on most relevant contexts, so we might be more likely to get it right when it matters most".
Her teaching reflects the same focus. This year, Dr Korica teaches on the Acting Responsibly, Critical Issues in Management, and Governance, Politics and Corporate Accountability Undergraduate Degree modules, as well as runs the innovative Managerial Work and Practice module. She also contributes to the Distance learning MBA Organisational Behaviour module.