Making the most of your time at WBS
27 October 2015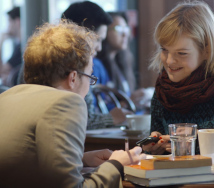 There can be a lot to take in during the first month or so of starting your studies here at Warwick Business School.
So, to give you a helping hand we've compiled a list of tips and advice from current students and alumni to help you on your way to making the most of your time at WBS over the next few years.
Anika Khosla:
Course: BSc Accounting & Finance Year 2
"Active involvement is key"
"Life at Warwick is more than academia, it is about the right balance.
"This could be from learning in groups and lectures, to ensuring seminar work and notes are completed. Staying on top of your work is an excellent way to excel but also enjoy yourself throughout your year.
"With more than 250 societies and plenty of sports clubs, active involvement is key to making new friends and enjoying yourself. Participating in societies is an excellent way to maintain a balance between work and socialising, but more so to develop applicable and long lasting skills.
"Skills such as teamwork, communication, respect and multi-tasking will take you far both in academic and non-academic activities, so it is important to make the most of them. Enjoy the social nights out and events that happen on campus and in the city because this is your time to enjoy them. Your Warwick journey is what you make of it, so make it the best experience ever."
Giulia Calcabrini:
Course: BSc International Management finalist
"Work out what suits you best"
"To make the most of your time at WBS, the first thing you should do is meet as many people as possible.
"We are lucky to be on courses composed of students from all sorts of backgrounds and it is extremely likely that the friendships you will build here will last for your whole life.
"Take advantage of the diverse modules you will study. You might even end up with some nice surprises, such as specific classes you weren't expecting to enjoy!
"Moreover, make use of your first year to test alternative ways to study. Laptops? iPads? Try everything to work out what suits you best! When you figure that out, you will realise you will have become much more efficient… and you will have more than enough time to enjoy the great parties taking place here at Warwick, or to engage in multiple societies."
Matt Weekes:
Course: BSc Management finalist
"Get a step ahead early on"
"Overworking is just as bad as under-working in a lot of cases - if you feel stressed, take a break and go back to it, too many people get super stressed without reason.
"Regarding social life, I would say the most important thing is to put yourself out there, it's always the easier option not to do something, but if you never try, you'll never know!
"Keep yourself healthy. That means eating (and drinking), sleep, and exercise - I think a healthy body promotes a healthy mind and can really improve one's ability as a student.
"Finally, for the future, it's obviously completely okay to not know what you want to do, but there's nothing to lose from meeting with the careers team and just talking through options with them. If you're a step ahead early on, this can be really advantageous.
"Finally, the most important thing is to have fun!"
Stefan Korac:
Course: BSc Management 2nd year
"Maximise the WBS name"
"The quicker you are to accept and embrace the fact that you belong here at Warwick and deserve your place, the sooner you can really begin to enjoy and make the most of your time at WBS.
"Accept you are here to study, and every lecture and seminar should be attended and prepared for, then reviewed. Ensure you get your money's worth by working as hard as possible, don't let this unbelievable opportunity go to waste!
"It is equally important to chill and forget about your stresses and worries, so that you can recharge for the challenges to come. This does not mean to say partying is the be all and end all. There is plenty to do such as going to the cinema, bowling, Christmas markets, and visiting amazing landmarks such as Warwick and Kenilworth Castles, and Stratford-upon-Avon – Shakespeare's birthplace.
"Furthermore, be sure to explore the incredibly vast network of clubs and societies available at your fingertips. This is the best place – apart from your course – to make friends as you all share a common interest which immediately helps you form bonds with others.
"Stay fit and healthy by exercising on a regular basis and learning to cook. The idea of 'a healthy body is a healthy mind' is very much true, so ensure you eat well and get active, and you will see the positive effects it has on your studies.
"Maximise the WBS name, especially when applying for Spring Weeks and Summer Internships, employers will definitely take you a lot more seriously."
Stefan van der Fluit:
OSCA Winner 2015
"Licence to Fail"
"As a student you have the unique luxury of being able to try a great deal of things without having to commit. I think campus is the perfect place to get yourself involved with start-up projects, as through doing so you meet insanely interesting people, create some fun and useful products to improve campus life.
"You don't have to do it for the purpose of turning a profit - do it for the experience and lessons you will no doubt learn which are transferable in any path of life.
"Once you graduate, if you decide to take your project full-time, you already have a strong foundation and knowledge base – which is important as pretty soon you will have to start paying for rent and food…so generating revenue and getting some cash flowing is king!
"If it turns out to go nowhere; you are protected by the brand of being a 'student' - where experimenting with new things is the name of the game!"
Gareth Roberts
Full-time MBA 2014
"Networks are made outside the classroom"
"Without doubt, respect for other members in your cohort is developed in the classroom, but friendships and networks are developed in the café or pub.
"The MBA has the ability to completely take over your life if you let it. The reality is that you will forget a lot of the academic content once you leave, and it's the networks and relationships that you made that will stand you in good stead, and not the ability to remember another 2x2 matrix!"
Cecilia Cordova Ramos
Full-time MBA 2014
"Create some balance"
"Create some balance, studies can become overwhelming, on top of being in a foreign environment as well.
"Remain positive and enjoy the things that you normally do, like sports, travel or movies.
"Connect with other MBAs. Your cohort might be fantastic as mine was, but while participating in competitions, or doing exchange programmes, or just travelling, you will also have the chance to meet people from different programmes and expand your network even more. That was one of my best experiences of the year."