Mark Taylor tells Sky News UK can still hit 2020 surplus
17 March 2016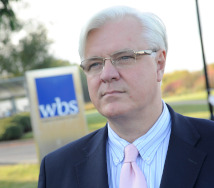 Chancellor right to break two of his fiscal rules says Dean on Sky News
Sticking to them would have stalled the UK's recovery
Professor Taylor believes Budget measures could boost UK productivity
And improving economy could lessen cuts pencilled in for 2019-20
Mark Taylor, Dean of Warwick Business School, told Sky News that despite George Osborne breaking two of his fiscal rules it is probably in the country's best interest in terms of the UK's financial recovery and is cautiously optimistic the Chancellor could meet the third rule.
The Chancellor has broken two out of his three self-imposed fiscal rules: the welfare cap and the rule stating that national debt should fall every year as a proportion of national income. But the third rule, a commitment to running a surplus by 2020 - meaning that the government is spending less per year than it is receiving in tax receipts - is still achievable according to Professor Taylor.
Professor Taylor, who worked at the Bank of England and the International Monetary Fund before joining WBS, said: "Of the three rules, he really shouldn't break his third rule as it would really damage his long term credibility. However, I believe if he hadn't broken the other two it would actually have hurt the recovery.
"The Chancellor has to be careful imposing rules in the short-term as it might stall recovery. But a five-year plan does seem credible in terms of shifting from a budget deficit to a surplus by 2020, although there is a lot of fiscal retrenchment pencilled in for 2019-20.
"It is important to remember we are currently in a very turbulent period. The Chancellor has less wriggle room now than he had in the Autumn Statement because there is less tax revenue, which is, to some extent, due to external factors: world output growth is lower than expected, economic growth in our major trading partners is lower, and there has been considerable volatility in financial markets.
"Against that backdrop, it is a difficult balancing act. As a result of these external factors, as well as a shortfall in productivity, the fiscal watchdog, the Office for Budget Responsibility (OBR), has revised down its growth forecasts to two per cent this year, 2.2 per cent next year and 2.1 per cent for the rest of the decade. But this should come as no surprise, after all, the Bank of England revised down its own growth forecasts a month or so ago.
"Nevertheless, growth at around two per cent per year is one of the highest growth rates in the developed world, so the UK is actually in pretty good shape comparatively, although admittedly against a weak international backdrop.
"But we can't get richer as a nation until productivity - the amount we produce per person - improves. Since the financial crisis, productivity has stagnated."
Among the chancellors changes corporation tax is set to fall from 20 per cent to 17 per cent by 2020 and the threshold for business rate relief is set to rise from £6,000 to £15,000 and increasing higher rate relief from £18,000 to £51,000, a boost for small businesses.
These moves along with announcements on infrastructure could, Professor Taylor believes, be enough to increase productivity and help Mr Osborne achieve a budget surplus by 2020.
Professor Taylor said: "One point not widely mentioned is that many of the measures announced in the Budget could boost productivity. For example, cutting corporation tax and effectively doing away with property business rates for about 630,000 small businesses will encourage investment and entrepreneurship, and increasing the amount of money in the transport infrastructure in projects like CrossRail in London and HS3 in the North will also have an impact on the UK's efficiency.
"If the world economy picks up over the next few years and UK productivity picks up, UK income and output will also pick up and so will tax revenue – so the public finances may not need a crash diet in 2019-20 to get out of a budget deficit and into surplus. For that reason, and although the OBR has now stated their belief that the Chancellor has a 55 per cent chance of meeting his third rule of a budget surplus by 2019, I'd put the probability a little higher."