MBA Careers Fair connects students and recruiters
02 November 2016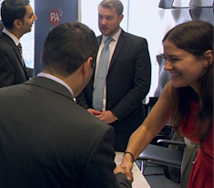 WBS hosts its second annual MBA Career Fair
Up to 200 students and alumni attended the event at The Shard
The event gave students 'direct access' to recruiters
These included IBM, Amazon and Gallup
Warwick Business School welcomed up to 200 MBA students and recent alumni through the doors of WBS London at The Shard for its second annual MBA Careers Fair.
A host of different employers ranging from financial services to telecommunications and pharmaceuticals were present to discuss career opportunities, with attendees including Gallup, Vodafone, Amazon and Admiral Group.
Student Divyanh Sharma felt it was fantastic as the fair provided a face-to-face interaction with companies often lost in the usual job application process.
"When you get direct access to a recruiter, it's a face-to-face conversation so you have an employee who knows what he wants in a job and an employer who knows what he wants to have in the organisation, so you know the opportunities there are and this benefits both sides," said Divyanh, a Distance learning MBA student.
Ollie Morgan, a Full-time MBA student, added: "It was a really positive event with a wide range of employers. I've enjoyed it and made some interesting contacts. It was good to find contacts really interested in WBS students.
"For me it was an opportunity to learn about potential employers and what they are looking for. As I'm interested in finance it was good to see HSBC there, but overall everyone has been really open and every question has been a good one."
The full list of employers present for this year's MBA Career Fair were: Vodafone, Urgo Medical, Amazon, HSBC, Gallup, Accuracy, Schneider Electric, Admiral Group Plc, Capco, Quanta Consulting, Argon Consulting, PA Consulting, Comma and EBRD.
Sarah Farnham, a Full-time MBA student, felt the event was a good way for students to consider options potentially away from career paths they were considering.
She said: "The main benefit of the event for me is opening students' minds and presenting a path they didn't think of to begin with. For the employers, it is beneficial to see us in the MBA programme, what we've been learning and see how they can match it up with future potential."
For recruiters, attending the event allowed them to meet a new pool of students to their normal candidates.
"The event was useful, it's been interesting for us to broaden our horizon in the type of candidates we meet," said Edmonds Richards, of Accuracy. "It's given me lots of opportunities to present the company to people who may not have heard of us and speak to people from diverse backgrounds. Plus, it certainly has got me thinking about new career programmes we can potentially offer MBA students."
Mark Hemming of Amazon added: "This is a fantastic place for us to meet people for our Amazon Pathway Program. This is tailored to deep analytical thinkers and we've met a number of interested people.
"We look for individuals who fit with our core leadership principles. We've had a number of graduates from WBS as the WBS MBA programme really fits our organisations requirements as they come with all the skills we demand of graduates on our Pathway Program. "
Paula Braithwaite, of Gallup, said: "We've found the event to be invaluable. We've had some great conversations and met some great individuals. Everyone has come with a wealth of experience and a story to share!"
Oliver Walmsley, Director of Corporate Relations, was delighted with the turnout which surpassed the inaugural event last year
He said: "Following the launch of our hugely successful MBA Careers Fair last year, it was great to see such a large number of Warwick Business School students, alumni and company representatives attending this event
"Hopefully this will pave the way for an even bigger turn out at our future events."
Find out more information about the range of Warwick MBA courses here.