MBA Edwards spreading the football gospel across the US
25 October 2016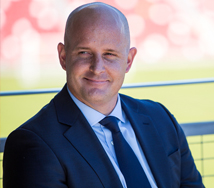 Jake Edwards using his MBA to grow soccer in the US
The former footballer is now President of the United Soccer League
Edwards has overseen tremendous growth in the league in three years
New partnership with Facebook and Twitter set to boost USL's appeal
On June 28, 1994, at the New York's Giants Stadium one of the biggest shocks in football's – or soccer's - World Cup history took place.
Ray Houghton's 30-yard volley flew over keeper Gianluca Pagliuca and the Republic of Ireland hung on to beat three-time World Cup winners (now four times) Italy 1-0.
Watching at the Giants Stadium was an 18-year-old, one of the many volunteers enrolled at the World Cup. Jake Edwards was there to help the teams in the locker room - the changing room - so he was there celebrating with the Irish, joining in with the delirium.
Despite the defeat Italy went on to reach the final, losing to Brazil. The US, hosting its first World Cup, were knocked out in the last 16, but it didn't matter, it was a huge success, setting a new attendance record for the competition and enthralling a previously skeptical nation. Soccer has been riding that wave in the US ever since, and so has Edwards.
Now the President of the United Soccer League (USL) Edwards has doubled the size of the league since its inception in 2011 to 29 professional teams and is three years into a partnership with the top tier Major League Soccer (MLS) – set up as part of the 1994 World Cup and now televised live around the world, including the UK, with bigger average attendances then basketball and ice hockey.
"When I joined the USL in 2013, the cost to acquire a franchise was several hundred thousand dollars," says Jake from his headquarters in Tampa, Florida. "Over the last few years we have built the value to an impressive $5 million franchise fee. Many of our existing clubs have achieved valuations on the open market of up to $22 million.
"There is a huge amount of investment interest in our league from across the US and more and more we hear from potential corporate partners and broadcasters from overseas as well.
"The sport is booming in North America and we have seen tremendous growth in the numbers and sophistication of the local fan base. Fans are watching the Premier League games in the pubs in the morning and then going to the MLS and USL games in the evening. Millennials make up a large proportion of our fan base and are providing the soundtrack to our matches with their tribalism and vocal support."
Preparing to embark on a soccer scholarship at James Madison University in Virginia after getting into Brighton's youth set-up when he lived in the UK, Jake's father, an airline engineer and a huge Manchester United fan who took Jake onto the Old Trafford terraces - "Mark Hughes was my hero" - was also a volunteer at the World Cup, looking after VIPS at New Jersey's airports. He got friendly with Ian St John, ex-Liverpool striker and one half of the popular TV football show Saint and Greavsie.
"We got to know Ian St John and his son, Ian St John Jr, was an agent," says Jake, who was born in Manchester but moved around the world thanks to his father's job. "He organised for me to train with the youth team at Manchester City for two summers and then after graduating from JMU he secured me a trial at Tranmere Rovers."
Four years after being in the delirious Irish changing room at the Giants Stadium Jake was training at Tranmere - then pushing for promotion to the Premier League - under John Aldridge, substitute on that famous day. It didn't work out, but Jake secured his first contract with Wrexham soon after, joining in 1998 just as Liverpool legend Ian Rush finished his career at the third tier club.
"It was very exciting," says Jake. "My first goal was at Luton Town – I remember it as clear as a bell. At the time Fulham, Stoke City, Manchester City and other big clubs were in the same division, so it was an extremely tough league and a great environment to start my pro career."
It was the start of a career around the lower leagues of English football, with spells at Telford United, Yeovil Town, Exeter City and culminating at Burton Albion, helping them win promotion into the Football League. His career highlight?
"At Exeter we drew Manchester United in the FA Cup third Round," says Jake. "I got to play at Old Trafford in front of nearly 70,000 and we came away with a 0-0 draw. We had to work really hard and for me - following the team as a young kid - it was a dream come true, my family flew over from the US to watch. In the replay they brought on the big guns then with (Wayne) Rooney and (Cristiano) Ronaldo scoring – he had the quickest feet I have ever seen."
At the end of his football career Jake was keen to stay in the sport but not as a coach and the "weekly cadence of training and games at the weekend." A stint shadowing the Commercial Manager at Tamworth piqued his interest in the world of business.
"I had a university degree, but what became apparent was the stigma of playing football," says Jake. "You don't have that in the US, but in the UK it is not seen as a plus. There were not many people willing to open the door and give me a chance.
"I had friends who had taken an MBA at Stanford, and they all said how life-changing it was and how it opens doors, so I spent a year researching it. I knew it would add a degree of credibility.
"I was accepted onto the Full-time MBA program at Warwick Business School, one of the most prestigious business Schools in Europe. I found Warwick's focus on management experience and varied curriculum to be a good fit for me.
"Completing the MBA was a career-changer and exposed me to a host of new industries and possibilities."
Jake found skills from his footballing career helped, like the self-confidence needed to play on the biggest stages and how to work as a team, plus the focus and commitment needed to overcome new challenges such as corporate finance – and some help from a classmate with 15 years' experience as a Finance Director.
"Some of it was challenging," says Jake. "But you bring a confidence of having survived in a tough environment for many years."
Post MBA Jake was hired by global sports marketing agency Octagon, where he worked in the rights holder side of the business as a business strategy consultant across numerous sports properties, including writing a business plan for Emirates Cricket on their proposed professional cricket league based on the hugely successful Indian Premier League.
"That got me hooked," says Jake. "Octagon gave me the opportunity to work within the global sports business industry, working with some fantastic people at major sporting events."
When Jake moved back to the US with his American wife in 2012 he was introduced to the new owners of the United Soccer League, NuRock Soccer Holdings LLC, who took it on from Nike in 2009 as a turnaround. At the time it had just 11 teams, mainly on the east coast, but Jake was impressed by their vision.
"I was also struck with the opportunity to create a football league structure like in the UK," says Jake. "I wrote a strategic plan for the ownership group and they brought me in as Executive Vice President to focus on long term strategic planning to grow the business and drive value for the wider enterprise. The aim was to expand the league over 10 years, build new stadiums, drive up the value of the clubs, and build a broadcast platform, among other key initiatives."
The strategic planning has paid off. The league now has an Eastern and Western conference, with two more teams, Reno 1868 FC (2017) and Nashville SC (2018), due to join. With average gates of 7,500 for the top 10 teams, nearly 1.5 million came through the turnstiles in 2016 – a 33 per cent increase from the previous season - and it has 17 million avid followers.
"We have a millennial audience so are taking a digital strategy first," says Jake. "We spent time with Facebook and Twitter in Silicon Valley and we have partnered with ESPN and YouTube to stream our games. Earlier this season, the USL was one of the first professional games on Facebook, FC Cincinnati hosting Crystal Palace, which 1.3 million watched.
"As a league we are investing over $8 million in broadcast production and digital content production. We are also taking every team's website and aggregating them on to a single digital platform so we can share content across all websites to drive digital numbers up."
The partnership with MLS means USL is on its way to becoming the de facto second tier in the US. Five teams have already moved up to the MLS from the USL, but Jake doesn't believe promotion and relegation will ever be part of the game in the US.
Jake adds: "If they were to start again with the Premier League now would it implement a promotion and relegation system? I am not sure you would have a quorum to do so, hence the continued movement to create a European super league.
"We are striving to build one of the top second divisions in the world. That is no small feat when you consider the Championship in England is the fourth largest league in Europe in terms of attendance and club revenues.
"We undoubtedly have a world-class ownership collective that has invested well over $100 million in the last 12 months in stadium upgrades and will continue to do so until the majority of our clubs are in new 10,000 seat soccer-specific stadiums across North America.
"We are more than simply a league, we are digital content producer for our fans and a service provider to our clubs. The USL will also continue to pioneer new technologies and innovation in our sport, such as being the first professional soccer league in the world to use video assistant review (VAR) technology in a competitive match in partnership with Major League Soccer and the International Football Association Board.
"I believe the USL can be the foundation of professional soccer in North America and can play a significant role in the future of the sport and the national team here."
After witnessing one of the biggest moments in US soccer history it seems Jake is now writing his own footnote in its rise across the Atlantic.
If you are interested in reading more about Jake Edwards, the Financial Time have run a feature available to read here.