MBA students follow in Cameron's footsteps by building links with India
11 March 2013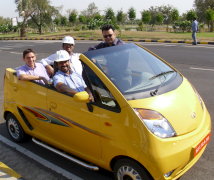 UK Prime Minister David Cameron's recent visit to India indicates just how important building partnerships between the two countries is and it is no different for MBA students.
At Warwick Business School MBA students have just returned from a six-day exchange visit to the Indian Institute of Management Ahmedabad (IIMA), with their trip coinciding with the Prime Minister's.
Following the Prime Minister was the largest ever trade delegation sent to India by the UK as firms big and small looked to build relationships that would be profitable for both sides.
Again, it was the same for Warwick's MBA students. Not only did they discover the specific business needs of India from one of the best business schools in Asia, but they built invaluable business contacts in one of the biggest emerging markets in the world.
Frenchman Toni Saraiva, project manager for EISC Ltd - Enterprise Europe (pictured at the Tata factory with fellow MBA students), said: "One of the most interesting aspects of the trip was being on campus with the current Indian equivalent MBA cohort and networking with them. These informal encounters at dinner and around the campus helped build bridges to India that are priceless.
"Also I was also able to have a couple of hours to organise my own company visits, one to a local company which I could develop some business with, possibly taking on some of the products for the European market."
A truly international group of 30 Warwick MBA participants went to IIMA, representing 11 countries from all four corners of the world, including: Australia, Switzerland, USA, Wales, Saudi Arabia, Austria, South Africa, Norway, Nepal and England.
At IIMA students had lectures and seminars on setting up a business in India, the Indian supply chain and financial system and how to market and understand the Indian consumer. Plus they found out the crucial cultural differences in managing and developing Indian workers.
They also visited companies in Ahmedabad, including Tata's Nano factory, where the cheapest car in the world is built, a textile firm, fabric dealer Arvind Mills and GVK EMRI - a research centre for emergency services management.
"The company visits gave us a contrasting view from different industries that fitted in with the contrasting country India is; from high-level, high-tech organisations such as the emergency management services to a labour intensive sector such as textile," said Mr Saraiva.
"The emergency services company was especially impressive and companies in Europe could probably learn from the systems put in place there.
"The week spent in this prestigious Indian institution was enriching. The teachers and courses were of a very high calibre. The lessons were participative and the professors really conveyed a sense of what doing business in India is all about.
"It is a very busy, intensive week but I would recommend anybody doing the Warwick MBA to take part in one of the internationally delivered electives. Being immersed for a week in a different working environment and culture, with different approaches to education is very useful to keep future managers sensitive to the global economy and its slight differences."
Warwick MBA student Christiane Kary, who works in Switzerland for Bayer Healthcare, said the trip was a great help in learning about the Indian economy and its different culture.
"It was a great experience, both from an academic and a cultural point of view," said the head of strategic marketing. "It is an outstanding institution and the programme contained a very good overview of doing business in India. The three site visits were a very valuable experience, something I would not like to have missed."
The exchange study, which also sees Indian students visit Warwick Business School, helps students to work effectively in an environment different from their 'home culture', and the University of Warwick is keen to build on the partnership.
University of Warwick Vice-Chancellor Professor Nigel Thrift was part of the Prime Minister's trade delegation and announced that the university has put together 16 scholarships for Indian students, including three at Warwick Business School.
Dean of WBS Professor Mark Taylor said: "We are delighted the IIMA, one of our key partner business schools from around the world, continues to welcome our students to this module. This international experience enhances our students' appreciation of the global diversity of business practices during their MBA study at Warwick Business School."
Students on the Warwick MBA by full-time study, by distance learning and on the Warwick Executive MBA can take part in the exchange trip to IIMA.