Merck re-structure part of paradigm shift in pharma
02 October 2013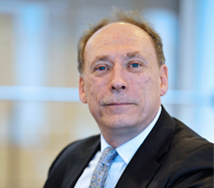 US pharmaceutical giant Merck's announcement that it is cutting 8,500 jobs is part of a paradigm shift in the industry says Warwick Business School Professor John Lyon.
The move by Merck, known as MSD outside of the United States and Canada, follows recent re-structuring at competitors Pfizer, AstraZeneca and GlaxoSmithKline.
Professor John Lyon, who was global vice president of US drug development company Covance, believes Merck's announcement is part of a realisation that the days of the blockbuster drug are coming to a close.
Every company searched for the blockbuster drug that would sweep the world and make billions of dollars, but they are becoming harder to find as 'personalised' drugs targeting the many different kinds of a disease are being sought instead.
"There is a huge transformation going on in the pharmaceutical industry," said Professor Lyon, who is a venture capitalist as well as a Professor of Practice in Entrepreneurship at Warwick Business School.
"Pharmaceutical companies can no longer rely on the blockbuster model of developing drugs and searching for revenues in excess of $1 billion per year, so they need to look at innovative ways of generating new products.
"Clinical scientists have spent many years, decades even, investigating new medicines from existing chemical compounds and proteins, but it is becoming more and more difficult simply because there are less to look at as the years go by. There are only a finite number of compounds, so the industry is having to shift its focus."
Merck said it will not only save $2.5 billion in annual costs by the end of 2015, but the new structure will sharpen its research and development focus.
It had already trimmed 7,500 from its staff and in total it will lose 20 per cent of its 81,000 workers. The New Jersey-based firm says it will focus its resources on "core therapeutic areas", while improving its manufacturing and supply network.
Professor Lyon believes firms in the pharmaceutical industry like Merck need to adopt a more flexible structure and become more innovative in an increasingly competitive sector.
"I would suggest large pharmaceutical companies like Merck need more of the entrepreneurial mind-set within the corporation and also have that mirrored in their processes to feed their earnings per share year on year," said Professor Lyon.
"Large corporations are very process driven, but they need to be more flexible and find new innovative ways of working and embed that new thinking into new processes that work. They need to be more nimble, so that ownership and responsibility has moved down the organisation and they are not as hierarchical. A flexible dynamic organisational structure is needed to act swiftly to changing market dynamics along with the ability to address real time controllable risks through swifter decision making. But this takes time, it is an on-going process that will take many years - it is like turning an oil tanker."
See this article featured in the Los Angeles Times and Pharma Times.
Professor John Lyon teaches Entrepreneurial Finance and Entrepreneurship & New Venture Creation on the Warwick MBA by full-time study, Warwick MBA by distance learning and Warwick Executive MBA.