Michael Mol tells BBC Co-op's 'angry birds' need to change
17 April 2014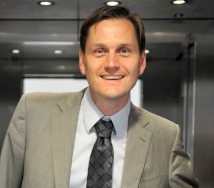 Professor Michael Mol warned the BBC the 'angry birds' at the Co-op could endanger the future of the mutual organisation if they don't quickly help to re-structure its governance.
The Co-operative Group announced losses of £2.5bn for 2013, marking the worst results in the group's 150-year history, with new chief executive Richard Pennycook describing the year as "disastrous".
It included a £226m write-down on the Somerfield supermarket chain the Co-op acquired in 2009, a £1.4bn loss from its bank and a £625m write-off for the reduction of its ownership of the bank, with 70 per cent of it now owned by hedge funds.
The Co-op has already seen its CEO Euan Sutherland stand down, claiming it was "ungovernable", while Lord Myners quit in April as a director after his review calling for reforms received a backlash from members.
"I would like to think that this is the wake-up call for the regional representatives, but I am not entirely sure that it will be," said Professor Mol on BBC Breakfast. "There has already been a lot of resistance to Lord Myners' proposals. He effectively asked the regional members to remove themselves from power, like asking turkeys to vote for Christmas.
"They don't seem particularly keen on that, I like to call them the 'angry birds' of the Co-op and from my point of view they have overseen this destruction in value and that is what needs to stop - they really need to reform that board.
"They need to adopt many of Lord Myners' recommendations. The mutual is a very strong form of organisation, and including the travel arm the Co-op has more than 100,000 employees, so it is important they get this right. But I am very worried about the 'angry birds' not taking the right decisions and that will endanger the future of the Co-op Group."
The Co-op holds its AGM in May, with Mr Pennycook – a former finance director at supermarket chain Morrisons - now under pressure, but Professor Mol believes he should stay and the group must streamline its structure with a simple 'one member, one vote' method of electing directors rather than through area and regional boards.
"This is the best time for the Co-op to try to turn things around, I think it would be very unwise to get rid of Richard Pennycook," said Professor Mol. "You can say he is a Plc man, but that is just symbolism and that is not what this is all about. It is about having a board that is competent and small enough to effectively oversee what the executives do.
"The AGM coming up is important, it is time for radical governance change and hopefully after that they can change the strategy.
"They have appointed a very large board, which needs trimming. It has too many members without the necessary experience and background, and these people oversaw two major acquisitions of Britannia and Somerfield and they have clearly been disastrous, it has been a failure in strategy.
"The structure means you go through areas, then through regions and only then do you get to the board level. It just invites people to come in that don't have the right expertise. If you have direct elections, and have seven million members directly choosing those at the board level of the group, that would significantly improve the quality of the people on the board. I don't think it is a democratic system at the moment because it is so indirect and layered - it doesn't function effectively."
The Co-op now plans to "exit 60 per cent" of its Somerfield acquisitions and concentrate on its convenience stores that saw a 1.6 per cent rise in food sales. But it still owes £263 million of its £333 million contribution to the bank's first recapitalisation and needs to find another £120 million to take up its share of a £440 million rights issue that will be launched by the bank.
"I believe in the medium to long term the Co-op is looking to get out of the banking business altogether," said Professor Mol. "There are some restrictions, though, as they sold off 70 per cent of the bank and it is difficult to get out of the remaining 30 per cent because of the deal they have struck with the hedge funds. There are some legal issues there as well, for instance about the use of the Co-operative name, so it is not straight forward.
"But it is almost obliged to find the money as part of the agreement they have with the hedge funds that have invested in the bank, they will need to find a way to supply that money."
Hear Professor Michael Mol on BBC Radio 4's Today. He is on after 17 minutes.
Listen to Professor Michael Mol on BBC FiveLive's Wake Up To Money. He is on after six minutes.
See this article featured in Management Today.
Professor Michael Mol teaches International Business on the Warwick Executive MBA, Warwick MBA by distance learning and Warwick MBA by full-time study.