Module opens students' eyes to real management world
24 June 2016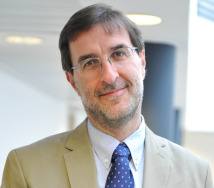 Students shadowed managers as part of an innovative module
Managerial Work and Practice module ran by Maja Korica and Davide Nicolini
Module gave students a chance to apply theory to real-life experience
It offers final year students a challenging way to apply themselves
What better way to learn about management than by following managers as they go about their day-to-day business?
It was with that philosophy in mind that two WBS academics crafted the Managerial Work and Practice module for their final year WBS undergraduates.
Maja Korica, Associate Professor, and Davide Nicolini, Professor, both members of the Organisation and Human Resource Management group within the School, formulated the idea for the module after spending months shadowing chief executives in the NHS.
They decided a tailored 'micro' version of their study would be a unique way for students to understand the managerial mindset, but also the practical challenges of their everyday work.
Dr Korica said: "It is something highly unique in my mind. It is still very rare, both in UK and the US, for students to have such an opportunity available to them – especially at an undergraduate level and accessing mostly high-level local managers. Feedback has reflected that.
"It is also notable students have often mentioned this has been the first time they've been able to directly connect theory with real world experience.
"It makes more sense for the students on a holistic level, plus as they see first-hand the challenges and pitfalls of being a manager, the certainties they had learned thus far begin to be questioned."
Shadowing
The Managerial Work and Practice module combines highly-interactive lectures delivered by both module leaders together, before each student is then paired with a local executive. This year saw 24 students and 24 executives participate, from a range of industries.
Students then spend up to four working days shadowing their executive, keeping a diary of events and of their observations, for discussion and reflection (anonymously) once they return to the classroom. The contents also form the basis for feedback to the participating managers, who gather for a half-day event at the School in order to exchange experiences and learning based on students' shadowing.
"This module differed greatly from the others I studied as part of my degree," said Lianna Beesley-Peck, a third year BSc Management student.
"By giving us the opportunity to go out and observe managers in the workplace, it allowed us to apply the theory we'd studied to real-life situations and learn just how complex interactions could become
"On a personal level, the module taught me more about myself by getting me to ask what would I have done differently, why did I think they were right or wrong? Additionally, it helped me both prepare myself for employment next year and determine the environment and role I wish to work in."
Students have to complete two assignments for the module: a creative group exercise reflecting a critical incident they witnessed during their placement, and an individual assignment.
The presentation, which is deliberately open-ended with minimal guidelines to allow for a creative approach, is paired with a three-hour WBS Create session to get the students' creative juices flowing.
This year, the presentations included a case of miscommunication being re-enacted in a courtroom scenario, a football match as a metaphor for a board meeting, and a circus.
Rare but timely
Rachel Dickinson, of WBS Create, a department that aims to inject creativity into the school's teaching and into the students, said: "This module creates a rare but timely opportunity for students to deepen, develop and apply understanding of the internal culture of an organisation and the day-to-day role managers have in shaping or being shaped by it."
The personal assignment is tailored to the individual, according to Professor Nicolini, allowing students to pick out elements they specifically wish to focus on as part of their personal development.
"Our module tries to break students away from the idea of universal good management," said Professor Nicolini. "Our students appreciate the way the module is delivered and how it is very engaging, with a focus on personal and creative learning."
Kris Dowling, a fourth-year BSc International Management student, added: "This module has demonstrated how management isn't just a job, but rather a practice with context-dependent features.
"For me, the highlight of the module was the shadowing itself. The shadowing was a unique experience because it detaches you from the work, and allows you to observe what's actually going on without having to worry about contributing to discussions or tasks. Your goal is to record and understand. I can't think of many scenarios where you are given more freedom than this."
Range of issues
Mike Parker, Managing Director of Minster Cleaning Services and a participating manager in the module, as well as Warwick MBA alumnus, added: "It is refreshing to spend time with young, active and inquisitive minds who see business life from a very different perspective.
"I know from feedback from them that these students have taken a great deal from the opportunity to see a senior business person 'in action'. Primarily they are astonished at the sheer range of issues that I engage in on a daily basis and which I need to be on top of."