My Warwick MBA took me from the Army to McKinsey
13 October 2016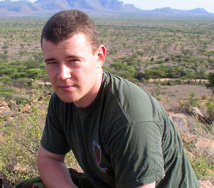 Army experience ideal for problem-solving under pressure at McKinsey
MBA prepared Major for a new type of leadership role in business
After a decade in the Army, McKinsey's "culture and work is amazing"
More top global organisations looking to recruit ex-servicemen and women
Former British Army Major Max Eskell says arriving at McKinsey & Company filled him with "shock and awe".
Max's 11-year career in the British Army saw him serve as a bomb disposal officer in Iraq, Kenya and Lebanon; lead soldiers in Germany and Afghanistan; and plan strategy for NATO's rapid response unit.
Yet Max still found the transition to one of the world's biggest management consultancy firms - renowned for its data driven approach, which has produced Google CEO Sundar Pichai, Facebook COO Sheryl Sandberg, Morgan Stanley CEO James Gorman and arguably more current and former Fortune 500 CEOs than any other company - very challenging.
"I knew that a tour at McKinsey was the best way to establish my business credentials," says Max. "But my initial experience at McKinsey could best be described as shock and awe.
"You are expected to learn very quickly. There are new processes you have to learn, and you could be thrown into any industry and sector, and be expected to perform very quickly.
"It was also hard shifting from being a leader to being responsible for detailed content. Now that I have found my feet; I am finding out how inspiring the firm is. The culture and the work is amazing, and I am having far greater impact now - on subjects that really matter - than during my time in the military."
On leaving the Army Max targeted McKinsey as the place where he wanted to start his business career and he felt an MBA was the best route there.
"Starting a new career is challenging," says Max. "Transitioning from over a decade in the military to working as a generalist strategy consult was difficult.
"I knew an MBA would help me in that respect. It prepared me in a number of ways; it taught me the language of business and how to structure and solve problems.
"It helped me refine my approach to problem solving and leadership. It was the first time I was exposed to very different people, and there was no clear leader. This forced me to use data to influence other people.
"The WBS CareersPlus team also helped develop my networking skills along with interview practice and support."
As well as McKinsey, more and more companies such as Jaguar Land Rover and Deloitte are targeting ex-servicemen to join them as they have led teams in pressurised situations.
Max believes there are plenty of skills that are transferable to the business world, but argues the main asset he has taken from the Army is the ability to focus on what is important, and getting things done.
"Veterans have something that cannot be taught - experience and character," says Max. "You can train for skill, but not for character. Veterans are exposed to high-stress situations, where they need to solve problems and get others to act.
"This experience is priceless for employers and in consulting - problem-solving under pressure, leadership and influence are vital skills."
Having travelled all over the world, including tours of Iraq, Afghanistan and the Middle East's troubled spots, Max is now settled in McKinsey's London office.
"There is no typical project or role at McKinsey," says Eskell. "We normally work in small teams of two to five for relatively short durations, two to four months. As an Associate, it is my role to own a specific part of the problem.
"First, I make sure I understand my part of the problem, and how it fits into the team-wide issue. I then reach out to my leadership and experts to build an initial hypothesis. Once armed with a hypothesis I set out collecting data to see if it is right. With that evidence, you can then provide insight to the client, and help them implement a solution."
Max, who gained an MBA with distinction from WBS, gave a talk to the school's Professional Network at WBS London at The Shard on making the move from the military into the business world and feels proper planning is key to reaching your goal.
"Aim high and think long-term," says Max. "Decide on where you want to be in 20 years and plan back from there."